Xeriscape garden plan - better substitutes for the pink plants
BradleyQT
(z5 Westminster/Broomfield)
February 10, 2008
All right intrepid gardeners,
I bought a HUD home in August. The backyard needs some TLC. I'd like to winter sow plants to help improve my backyard. But first I need some plant help!
My plan is for a family/dog friendly backyard that is also xeric. During the spring/summer/fall, I'm a weekend gardener at best so the yard needs to be low maintenance as well.
I found a xeric landscape plan ( Easy Living - half way down the page) that I like for a variety of reasons (focus on affordable plants, uses existing back deck structure, low maintenance, grassy space).
I've been researching the plants. I am not a fan of the bright pink plants in the plan (coral bells, Hancock coralberry, Red-leaf rose and purple iceplant).
I'm fine with the more mellow Mexican Evening Primrose.
I'm looking for advice! I'd like to find xeric plants that would compliment the other plants in the plan, without being bright pink.
I found a
and a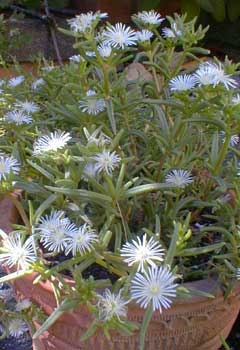 , but I'm very open to other great options.
Thanks!
~becca in Broomfield