Upper Garden Roses and Irises
sweetannie4u
(midOK_z6b/7a)
February 20, 2013
Here you see:
* Betty Prior (deep pink - left),
* the dainty little blooms of Heritage (front & center),
* Blush Damask (left bottom),
* Iceberg,(peeking through Betty Prior in back),
* Ballerina (back center),
* Simply Marvelous (far back- right),
* Lady Elsie Mae (way back center)
and peeking through the Heritage bush, you can just make out one of the blooms of Belinda's Dream.
There are several more roses in this garden.
I just added two new roses this past week: "Pristine"
This is my favorite garden most of the season.
(CLICK on photos to enlarge)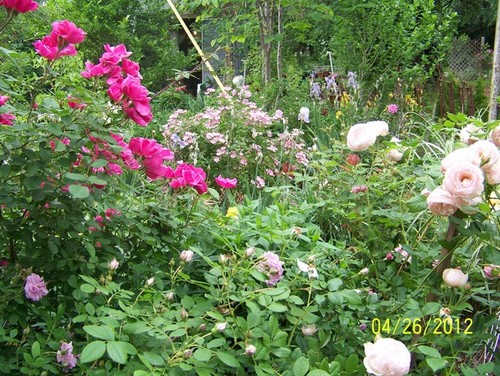 This post was edited by sweetannie4u on Wed, Feb 20, 13 at 16:19