Just when you think it's over and want to give up....
Loveplants2 8b Virginia Beach, Virginia
December 31, 2011
This is a wonderful message to lots of people who may want to give up on some of their plants and trees...
I purchased two rooted/grafted cuttings (Makaha Sunn) from a very generous person. One did beautifully and the other didnt do so well. It started to take a turn when i brought it inside this November and showed signs of the top half of the graft to turn brown and start to rot.
Trying to save this special cutting, i tried to cut off the bad section and see if it would continue to perk up and stay firm. Well...it didnt. I was bummed....
Some of you all know the story that is behind the Makaha Sunn and who named this beautiful tree. I have searched for this beauty for a while and was so pleased when i found these cuttings.
As i was cleaning up today and looking at some of my trees, i looked at both of my Makaha Sunn Plumies. The one that i thought that i lost still looks dead. I knew that it was a goner, but just didnt do anything with it since i was so busy during the holidays.
Knowing that the top of the graft is the MS cutting and the bottom half is root stock, I was still surprised to see what i found this afternoon...
Here is the picture of what is happening with this sad looking tree.
It wants to live..that is what makes me want to share this with all of you, especially tonight...New Years Eve.
Things can always look up and change...just when you think they cant...
Here is a surprise for me, especiallyy since its not the time of the year for a tree to try and produce new stems.
Happy New Year to you all!!
Life is good and comes in all different ways!!!
Never give up!!!
My little tree didnt. Even though it isnt a Makaha Sunn, it still is a Plumie and i will take good care of this little guy who wants to thrive...
Happy New Year!!!
Laura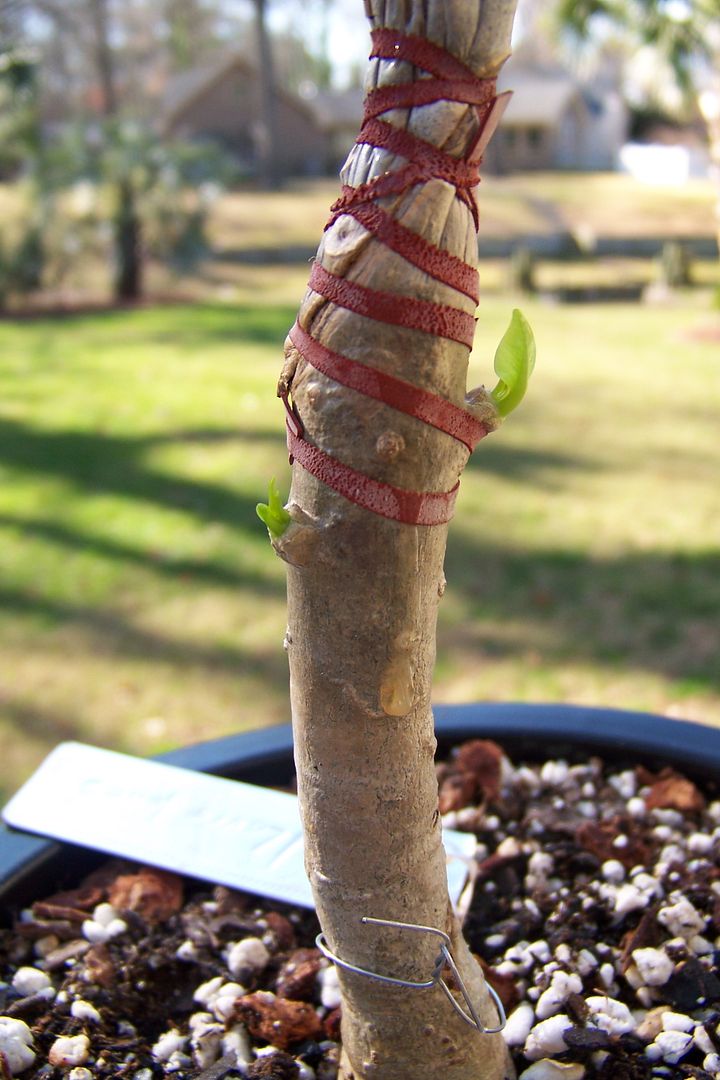 Here is a pic of my first Varigated Plumeria (Maya)
I just love this beautiful tree. The leaves have a pink hue. Thank you... : )
Laura