Happy Spring, Rocky Mt gardeners!
b2alicia
(zone 5 Westminster)
May 18, 2013
Hi everyone,
The gardening urge has overwhelmed me!
I stayed away from GW for about a year, focusing more on getting my new rescue poodle Percy acclimated.
There were some ups and downs, but I think we've made some real progress.
And now, I can hardly keep my hands out of the yard!
Big job #1: North fence wind tunnel. So I had some baby evergreen trees (4 big ones , 2 small ones) planted along the north fence in 2010, and now 3 of the original 6 have had to be replaced.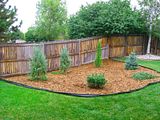 2010
2011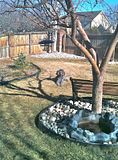 2012- right there to the left of Percy, that low Juniper wasn't prospering.
So last month I checked around, got some good compost with the 'm' word in it? I can never remember the name. Decided on getting neighbor boy to dig some good holes, and here we are: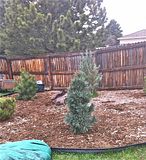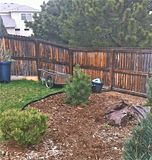 Needs a little more polishing up, and I will post photo when finished.
Glad to be back!