Happy Spring, Rocky Mt gardeners! #2
b2alicia
(zone 5 Westminster)
May 18, 2013
Project 2!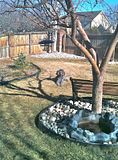 That aspen tree in the corner is the same tree in both photos. This is the northeast corner of my lot. So that part of the yard, right in front of the river rock, gets full, hot sun from south and west for most of the summer. Grass just doesn't seem to grow there. Bindweed grows great! So I'm wondering now about sedum varieties!
They are sun tolerant, right? Heat tolerant , right? They are succulents, right? Hens and chicks? I recall Skybird had some gorgeous varieties at her house, but I don't recall the names. Any favorites?
There's another whole feng shui piece to this as well. For my home, the NE location is my prosperity, abundance, wealth center. Inside, it is my kitchen sink. Outside would be the sedum corner. Over my sink, I have jade plants. (That's what the book said to do.) The leaves are round and cushy, which is a good thing , from what I gather. So it seems that sedum varieties would be just right. :)
OFF TOPIC
So the little map shown in the link talks about different areas of your home. Who knows? The black square at the bottom is the front door entrance to your home. As I move through my house, the room in the back on the left is the kitchen, and in the very corner is the sink. I'm a messy housekeeper by nature, and I prefer to leave dirty dishes in the sink, soaking in soapy water. I had dead plants hanging up high because I couldn't reach it with the pitcher.
Well, these are very bad things in the feng shui world, and I don't see how this could have anything to do with poor financial health. But I read about "Kitchen Abundance Center", and fixed it. Maybe things are connected in ways we don't see. But since then, my work load has tripled.
Here is a link that might be useful: feng shui home arrangement map
This post was edited by b2alicia on Sun, Jun 2, 13 at 11:01