Unidentified Apricot Floribunda
tuderte
(USDA 9a equiv.)
February 20, 2013
I'm hoping that someone will be able to help me identify this rose. It belongs to a friend of mine who 'inherited' it when she bought a farm in Central Western New South Wales (Australia) seven years ago. The garden had been neglected for some years before she bought the farm and the roses were in a very sorry state.
My observations of this rose are as follows -
It has an enormous stump and I'm guessing that it was planted at the time the house was built, which was very soon after World War 2 - so, it is a rose that would have been widely available in Australia in the early 1950s.
The flowering habit is that of a floribunda
It is not perfumed
The form of the rose is really quite beautiful in all stages
It lasts very well as a cut flower in a vase
As the flower ages the colour tends more towards ivory
If there is any further information I can provide, please let me know.
I will try and attach a link to an album I have on Picasa which contains about ten photos of the rose.
Please excuse me if this doesn't display correctly - it's my first attempt at posting to the web!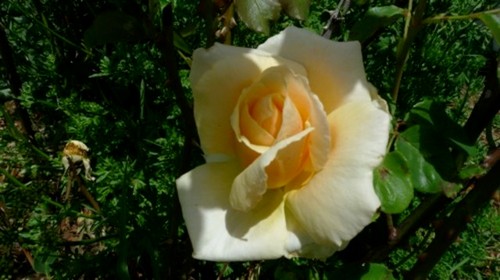 Here is a link that might be useful: Unidentified Apricot Floribunda