Need help identifying seedlings
I have about 30 roses that I've grown from seed. These are my first roses and I need help identifying the type. I'm particularly concerned if it can withstand the Minnesota winters in zone 4.
Last November, I attended a wedding in CA that used rose hips in many of the arrangements, so I "borrowed" a couple hips to take home with me to sprout (I'm calling it the "Lamb-Shaps" Rose after the couple). The hips were mostly spherical and orange-ish, but I don't have any photos of them. I refrigerated them with a moist paper towel until a few started sprouting in early February. I then planted them all in some potting soil and have been amazed at how fast and strong they've grown (I think this may be a start to a rose addiction). My first flower opened yesterday and is about 2" across with ~ 20 petals (photo below). Additional photos can be viewed using the link.
There seems to be 2 types of seedlings as well, but I'm not sure if this is a real difference or not. The rose hips all looked the same. All the seedlings have pink, straight thorns, but some plants have more thorns on a red stem and others (including the one with the flower) the stems has turned green and has fewer thorns that are a lighter pink.
I've tried researching the rose without much luck so far. I sincerely appreciate help in identifying this rose!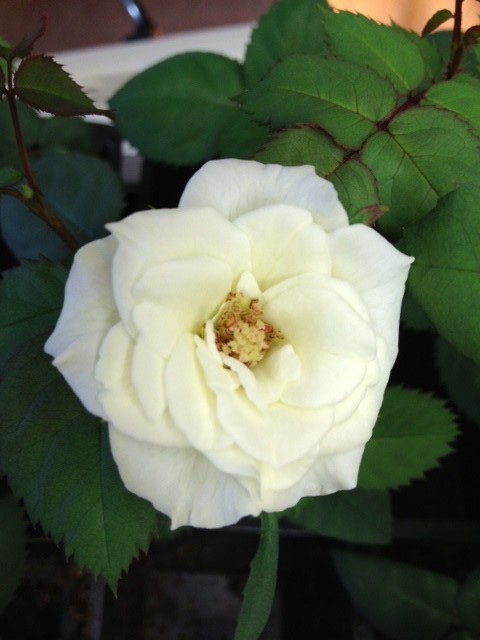 Here is a link that might be useful: Additional rose photos