A few unknown roses...
I have a few roses on my yard that deserve some medals of honor.
They were originally planned by grandma, and after her death received absolutely no care.
For the past 9 years these guys have been growing in solid clay, in the baking sun, with no pruning, fertilizing, or water.
And somehow they lived and bloomed year after year.
So! after treating them nicely for the first time in years, I decided it would be great to know these little troopers names.
Ok.... to start with...
This peachy orange rose. The fragrance is light, vaguely rosy...
The blooms are normally borne singly on long stems, but occasionally out produces clusters of 3.
The bush itself is about 5 feet tall and 3 feet wide.
The remarkable thing ( at least to me) is the large size of the blooms.
They are easily larger than my head and rival my giant dahlias in size.
It blooms in flushes, about 4 or 5 per growing season.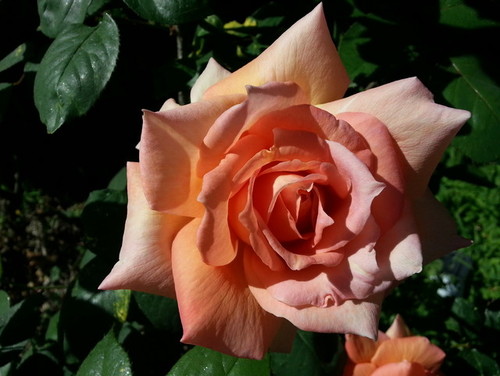 This post was edited by Ordphien on Fri, Apr 5, 13 at 20:14