Woodash for blackspots and mildew, for acidic soil only
strawchicago
(zone 5a)
May 27, 2013
Two people in HMF reported success against mildew when they dust the ground around rose bushes with wood ash. Wood ash is very alkaline, pH 10 to 12, is OK if your soil is acidic, and you spread wood ash VERY THIN on top of a thick layer of mulch.
Wood ash can burn shallow roots. My Mom in acidic soil, Michigan, used wood ash as fertilizer for 30+ years with awesome garden. She mulched plants with leaves, then spread wood ash on top, then the rain, pH of 5.6, washed the alkaline wood ash to neutralize the acidic layer of leaves.
Wood ash is high in potassium (necessary to fight diseases), plus high in calcium. Both potassium and calcium strengthen cell walls against diseases. Wood ash has boron (lacking in some soils, even at neutral pH), iron, plus all the trace elements. NPK of wood ash is 0-1-3, plus up to 20% calcium.
I don't have access to wood ash, so I use horse manure, pH above 7.5 (stable here limed their manure last year). It's on a bedding of wood chips, made out of recycled wood, with mold-retardant.
It's good to test your soil pH, to see if it's acidic or alkaline. See the link below on how to get ACCURATE soil pH using $1 of distilled water, and 50 cents of red cabbage.
See below of my Francis Blaise own-root rose, 100% clean, mulched with horse manure (pH above 7.5) on a bedding of wood chips, which dries out fast after a rain. You can see October frost zapped the tomatoes vines behind it.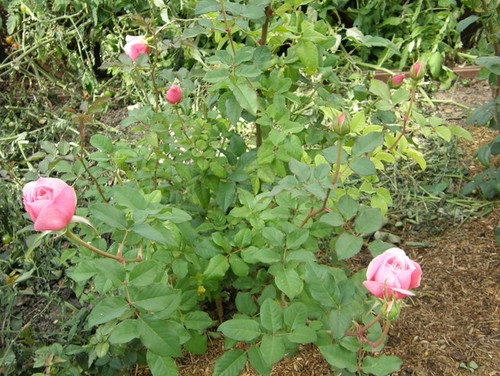 Here is a link that might be useful: Cheapest way to test soil pH using red cabbage
This post was edited by Strawberryhill on Wed, Oct 16, 13 at 12:33