Environmental reasons for NOT spraying with chemicals
strawchicago
(zone 5a)
May 27, 2013
People don't realize that the German chemical giant Bayer makes other crop-control products, and NOT just for roses. 94 million acres of corn are planted with seeds treated with pesticides. There's also the Oberon-insecticides spray for corn.
Bayer is the German company that supplied toxic gas during the Holocaust that killed 6 million Jews. The Los Angeles Times on Feb 18, 1999 reported: "In the latest front of Holocaust-related litigation, a federal class-action suit was filed Wednesday on behalf of survivors of Nazi death camps, alleging that Bayer AG, the giant German-owned chemical and pharmaceutical company, participated in cruel medical experiments by the infamous Dr. Josef Mengele.
The suit, filed by a group of lawyers already involved in a spate of other Holocaust-related litigation, alleges that Bayer "monitored and supervised those experiments, and used them as a form of research and development for its corporate benefit."
There's a book about fighting cancer written by an M.D. with a brain tumor. He wrote about growing up in France and watching farmers nearby spraying their corn field.
There are 3 studies that linked bee decline to Bayer Pesticide. If our crops are sprayed, and if our flowers are sprayed, then how will the bees survive?
With the news of Angelia Jolie's double-mastectomy, I was checking on pesticides and cancer risk, and found a large study of 30,454 farmers' wives in Iowa and North Carolina, and here's the study's conclusion:
"The authors found no clear association of breast cancer risk with farm size or washing of clothes worn during pesticide application, but risk was modestly elevated among women whose homes were closest to areas of pesticide application." See link below for the study:
In my last house of acidic clay, only 1/2 hour away, I mulched with acidic pine bark, I also sprayed regularly with Bayer, and had the worst blackspots both in fall, and also in the spring (I winterized with acidic wet leaves, which didn't help).
Now in the new house with alkaline clay, pH 7.7, have 55+ own-root roses, no spray, less diseases, when I keep the surface dry and alkaline. Here's own-root Evelyn rose, 2nd year in spring: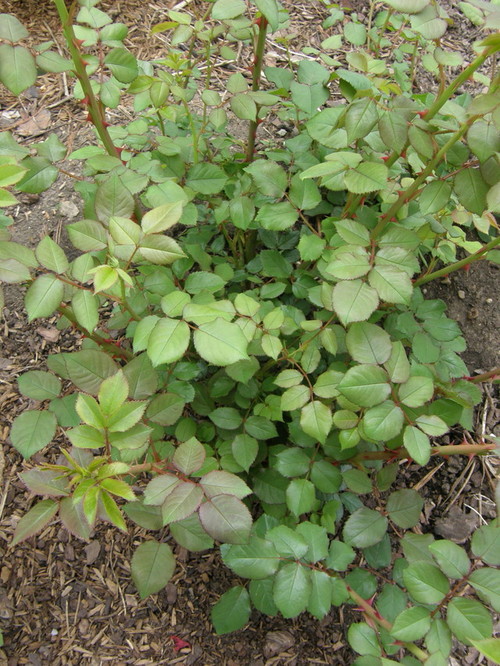 Here is a link that might be useful: Pesticide Use and Breast Cancer risk
This post was edited by Strawberryhill on Sun, Sep 15, 13 at 12:11