Make leaves thicker & stronger with calcium and potassium
strawchicago
(zone 5a)
May 28, 2013
Paul Neyron was naughty when I gave him acid-fertilizer high nitrogen: He blackspotted and blooms balled up. Then I moved him into partial shade, with Ball's Potting soil: composted fine pine bark (has tannin, a fungicide), peat moss, perlite, vermiculite, lime (fungicide) , and gypsum (calcium sulfate). He's healthy, see below:
Calcium is best together with potassium. Here's an excerpt from Missouri State: "Calcium is an extremely important mineral in plant nutrition ... Calcium is also important in root development."
My soil is limestone clay and my soil test came back "barely adequate in calcium!" I grew roses in acidic clay before, they had dark-green leaves, but very thin. It was a blackspot-fest then even with Bayer spray.
Both calcium and potassium STRENGTHEN the cell-membrane of plants, to prevent fungal invasion. Calcium spray is used for botrytis, and prevents balling. High nitrogen and high potassium drives down calcium. High nitrogen results in balling, or disfigured blooms without adequate calcium. Calcium nitrate is recommended for sandy soil or pots, where nitrogen leaches.
For tomatoes, Ohio State University stated: "Blossom-end rot is a physiologic disorder associated with a low concentration of calcium in the fruit. 1.Maintain the soil pH around 6.5. Liming will supply calcium 2.Use nitrate nitrogen as the fertilizer nitrogen source. Ammoniacal nitrogen may increase blossom-end rot as excess ammonium ions REDUCE calcium uptake.
Calcium and potassium maintains osmotic pressure, so plants don't get droopy in the heat. Best used together. Kelp4Less sells both: soluble gypsum and sulfate of potash ... free shipping, best used as soluble.
Below link is the procedure to get your soil pH FAST by using $1.50 worth of red cabbage and distilled water. If your soil pH is acidic, calcium and potassium is less available.
See below picture of how thick and rigid the petals of Radio Times and Mary Magdalene (white) get when I dunk calcium citrate in the vase to prolong its vase life.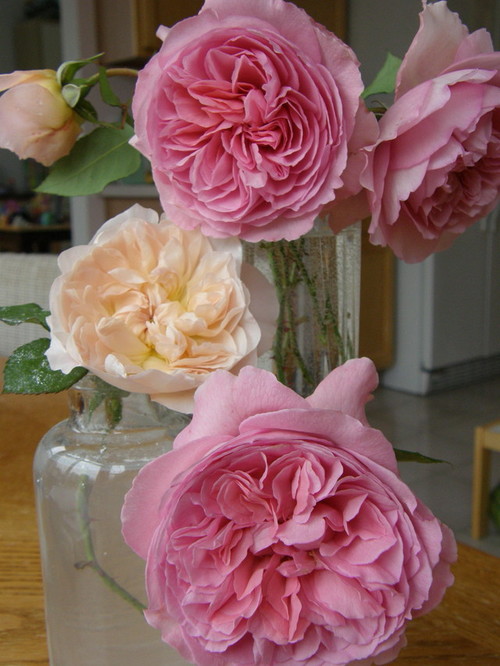 Here is a link that might be useful: Cheapest way to test soil pH using red cabbage
This post was edited by Strawberryhill on Sat, Oct 5, 13 at 22:01