Keep surface dry & alkaline for fungal prevention
strawchicago
(zone 5a)
May 27, 2013
Here's a description on how black spot spores are transmitted: "The fungi that cause black spots overwinter on infected leaves that fall to the ground. The following spring, just as new leaves are unfolding, the fungal tissue in the leaves on the ground ripens. The surfaces of the spots split and minute, needlelike spores escape. The spores are carried about by wind and if they land on new leaves of a susceptible host they may germinate, penetrate the leaf tissue, and start a new disease cycle."
I can't find the optimal pH for black spots on roses, or diplocarpo rosae, but I found the optimal pH for its relative, diplocarpo mespili, or black spots on fruit trees' leaves.
Optimal pH for diplocarpo mespili is pH 4 to 7. The optimal temp. is 71 degrees to 78. Here's info. from University of Maine:
"As is true with most fungi, this fungus requires free water for infection to occur. The spores must be wet for at least 7 hours before they can germinate. A temperature of 65°F is best for spore germination and the disease develops most rapidly at about 75°F. Temperatures of 85°F and above inhibit the spread of the disease."
Either dry and alkaline, or VERY acidic would discourage fungal growth. Baking soda, at pH 9, discourages fungal growth. I also spray diluted vinegar on the black fungus on my shower curtain. Corn meal is reported in the canning site with pH 7.3, but when I tested it in red-cabbage juice, it's VERY ACIDIC at pH 3.5, more pink that peat moss at pH 4. Corn meal has zero salt, so it's better for the roots than milk or baking soda - both have salt.
Corn meal also supplies nitrogen to the soil, and it hosts Trichoderma fungi, the beneficial fungi that inhibits the pathogenic black spot species. Whole grain corn meal works best, the refined corn meal doesn't work.
Below is a picture Eglantyne, most prone to blackspot, dusted with WHOLE GRAIN corn meal before a rain. It's 100% clean the first year. The second year, I didn't dust with corn meal, and it got black spots in late fall, despite my alkaline soil, pH 7.7.
Also it helps to grow own-root roses, rather than grafted on Dr. Huey. Dr. Huey rootstock prefers it dry and alkaline, and GRAFTED roses broke out in BS in my last house of wet acidic clay, mulched with acidic pine bark (pH 4.5).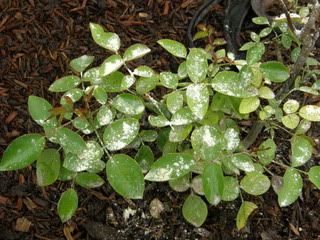 Below is a link of the most tough, disease-resistant roses to grow. I have one hybrid tea grafted on Dr. Huey was in a bed topped with slightly acidic wet leaves, and that broke out in BS. However, the roses in a bed mulched with horse manure on DRY sawdust bedding, they stay clean in late fall, see below picture: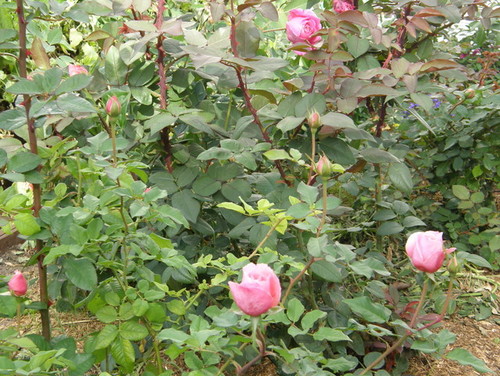 Here is a link that might be useful: Your most healthy and no-spray roses?
This post was edited by Strawberryhill on Mon, Jul 21, 14 at 15:31