Rain Barrels & garden tips & lessons learned?
strawchicago
(zone 5a)
May 29, 2014
I dug up 4 dead roses, killed by zone 5a (down to -30 below zero last winter). I notice the soil there turned rock-hard clay ... I watered them the most last year. Calcium hydroxide in tap water turned my soil into cement, thus roots were destroyed easily when frozen. My tap water is alkaline, pH 8. From eHow: "Calcium hydroxide is used in cement. In addition, calcium hydroxide is used in treating sewage, water, and industrial wastes."
The roses which I rarely water ... the soil there is loamy and fluffy. They got rain water, pH 5.6, and survived winter without protection. I should had bought rain barrels to collect rain water. pH of rain water is 5.6 & roses bloom and root best with acidic water. Health food store sells citric acid for sprouting, to counter-act alkaline tap water.
So glad I bought a rain barrel at 65 gallons for $79 at Sam's Club, see below. It leaked the 1st time using, so we'll return it.
Below is a place to order 50 gallon Terra Cotta Snap Lid Rain Barrel, for $79.99 with free shipping, also looks nice.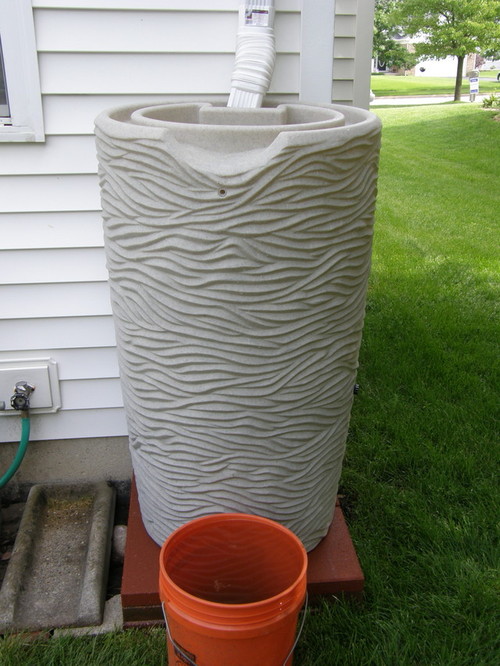 Here is a link that might be useful: Terra Cotta rain barrel free shipping for $79.99
This post was edited by Strawberryhill on Wed, Jun 4, 14 at 11:37