Roses: the bad, the good and your favorite colors & scents?
strawchicago
(zone 5a)
June 12, 2014
Favorite color is yellow ... that cheer me up.
Favorite scents are in the picture below: Pat Austin with chemical fertilizer reeked like tobacco pipe. It's floral-nectarine with horse manure. It's more mango with cocoa mulch. This year is best with chicken-manure: like a fruit-bowl of ripe nectarine, juicy pear, and blackberries. YUM !
The crimson-red Yves seedling inherits Yves Piaget's famous scent of floral grape juice, in addition to sweet-pea scent. Pink Evelyn is peach-floral .. heady and delicious.
Stephen Big Purple has the floral violet & old rose scent. Mary Magdalene (beige) is a frankincense & myrrh like the Catholic mass. Honey Bouquet (yellow) smells just like fresh honey.
THE BAD: Gruss an Teplitz, the parent of Dr. Huey that most roses are grafted on. Gruss gave me hell last year with mildew. Then Gruss broke out in black spots in our recent 2-days-rain, while my other 50+ roses are clean. I won't get grafted unless I absolutely have to, I don't trust rootstock Dr. Huey with naughty Gruss as his parent !
Bouquet below is taken June 12, zone 5a: white Mary Magdalene, orange Pat Austin, pink Evelyn, red Yves seedling, yellow Honey Bouquet, and Stephen Big Purple.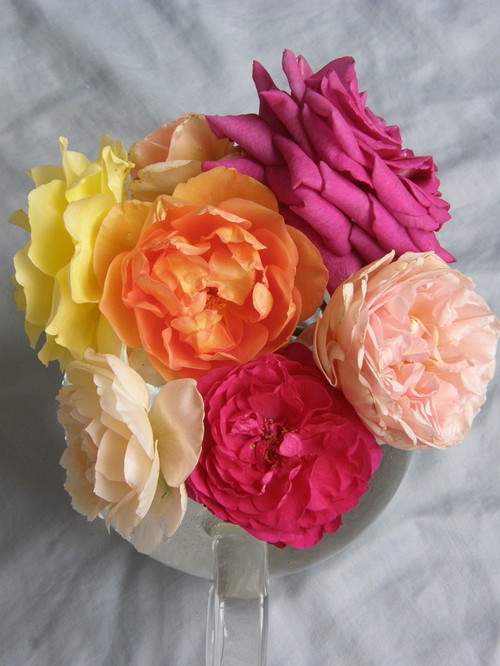 This post was edited by Strawberryhill on Sat, Jun 14, 14 at 12:56