Family Heriloom Climber Rose ID
Hello - My wife's great aunt had a rose in her yard for many, many years. She recently passed, and before the house was sold I was given the task of getting a cutting to pass the rose on to her family. (I have the greenest thumb in the family.....) I was able to successfully get one rooted, and have since gotten several more cuttings from that plant rooted and sent out to my wife's family members.
Right we simply call it called "Marge's rose" after her. I'll be honest and say that the name may stick in the future, even if someone here can ID it. But I'd love to know what it actually is, just for my own personal purposes.
The canes seem to get about 7-8 foot long, flowers are probably an inch and a half wide. There's not much else unique to describe. I know it got quite large and bushy in Marge's yard. Which makes it very possible this is actually a rambler - the differences between climber and rambler are not clear in my mind.
I'd appreciate any suggestions or thoughts!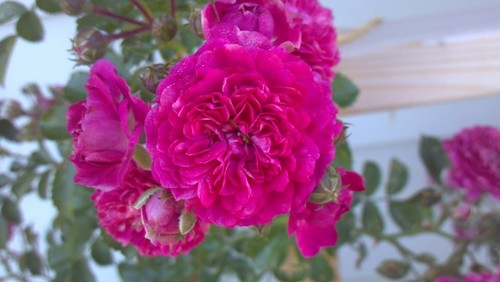 This post was edited by TWG1572 on Mon, Jun 23, 14 at 13:46