Am I Nutz?
I won't be 70 for awhile. I've had the "big veggie garden" since 2005. The previous garden was both a little larger and a little smaller. I downsized last year by passing on having my "row crop garden." It was just too inconvenient to make another stop on harvest days.
The dahlia garden, little veggie garden and shady corner garden are elsewhere and still in play.
I didn't work as hard at gardening in 2012 as in years past. This year, the neighbor (property owner) and I are expanding at the big veggie garden. This is nearly double: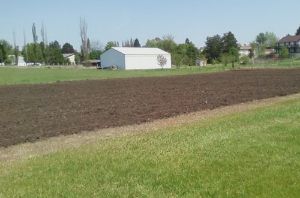 cell phone photo
It is supposed to be right at 1/4 acre. I don't think so! Maybe my part will be 1/4 acre but I've already said that I don't "need" 1/10th of it. It looks like I will be left with more than half.
I think I'm going to grow some serious cover crops this year . . .
Steve
old fool