Rose sales, garden bargains & things worth buying
strawchicago 5a IL
July 3, 2014
Today is Thursday, July 3, I notice that Heirloom roses in Oregon have FREE SHIPPING until July 7. So it's 5 days of free shipping !! Early September Heirloom roses also has 5-days of FREE SHIPPING.
I checked their website, many Austins are available, plus the noteworthy ones: Louis Clements, Star of the Nile, Living Easy, Easy Going, Blueberryhill, Lagerfeld. I notice that the very disease-resistant Carefree Celebration is also available.
Last year I waited until 1/2 price, the selection was much less, but I managed to get Jude the Obscure & Sharifa Asma end of July. The advantage of getting it now with free shipping is: One month ahead in growth, which is crucial for cold climate.
Sold at local Menards in Chicagoland: Chickity-doo-doo for $8 per bag, only a few bags left. Gypsum (16% sulfur, and 21% calcium) was sold for $4.49 per 50 lbs. bag, a lot cheaper than the feed store. The gypsum stuff is quite caustic with sulfur, earthworms and my skin are both sensitive to that acid ...but good to break up heavy & rock hard alkaline clay.
Menards also sell GROUND LIMESTONE, dusty-like-powder for $4.49 per 50 lbs. bag. They also sell pelletized lime for $12 per 50 lbs. bag. The red lava rock is cheaper than elsewhere, 50 lbs. bag for $4.99. I bought organic Milorganite for $8.49 to fertilize my lawn, rather than the $$$ Scott's weed & feed.
I got my favorite food for roses with Kelp meal: Pennington Alaska pellets NPK 4-6-6, only $6.99 at Menards. Also got for myself a 5-gallon plastic bucket for $2.85. For potting soil, the Sam's club here sells $10 for a HUGE bag of MiracleGro Moisture Control potting soil (much bigger bag than Walmart) ... but that was sold out fast.
The roses worth buying in my garden are those that produce tons of blooms: French roses that like my alkaline clay are Liv Tyler, Firefighter, Frederic Mistral, Marie Pavie, Bolero. Austin roses produce less blooms in my alkaline clay, but Crown-Princess-Magareta, Mary Magdalene, Radio Times, Pat Austin, Sharifa Asma, Golden Celebration, and Jude the Obscure were worth the money, with their outstanding scents. All the below roses are worth buying: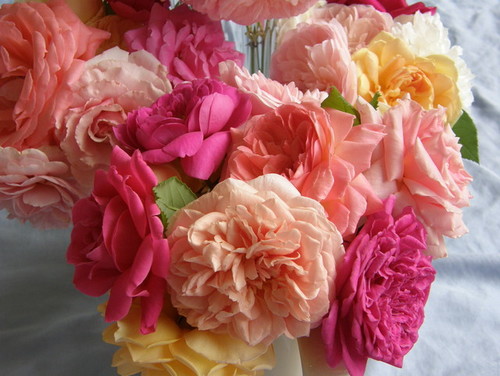 This post was edited by Strawberryhill on Fri, Jul 4, 14 at 10:46