Red cabbage pH test of blood meal, corn meal, compost, etc.
strawchicago
(zone 5a)
July 13, 2014
I learn my lesson: always test what others recommend, or report. Take Coffee ground, some sites report that as acidic. I tested that with red-cabbage-juice. Initially the color was pinkish (acidic), after 1/2 hour it turned clear, or neutral pH. Coffee ground is a buffer.
I already tested 1 cup of bone meal in the planting hole: disaster ... nearly killed a Gallica band, plus a tomato. And 4 roses with bone meal broke out in B.S., compared to the clean one without.
Blood meal was reported as acidic. I tested it against my alkaline soil (pH 7.7, tested by EarthCo.) .. BLOOD MEAL was almost as blue as my heavy clay, I would put its pH at 7.5.
I tested Encap dry compost sold at Menards for $2 per 18 lb. .. greenish tinge that became clearer with prolonged soaking, most likely a buffer like coffee ground. The last time I tested the bagged compost & manure at HomeDepot, it was more blue than my pH 7.7 clay.
Corn meal was reported in the canning site with pH 7.3. That's for FRESH cooked corn. However, raw, cracked corn stored for years in the bag, underwent anaerobic fermentation & giving off acid, and tested quite acidic. At first it was pinkish, but after 20 minutes, it got darker pink than pine bark. Pine bark pH 4.5, so cracked corn would be around pH 4. Peat moss pH is reported to be 4.
See below from top to bottom, left to right: Blood meal (medium blue), pH around 7.5, compost (just a touch of green, slightly alkaline), corn (very pink) pH around 4, and red-cabbage boiled in distilled water (purple, neutral pH):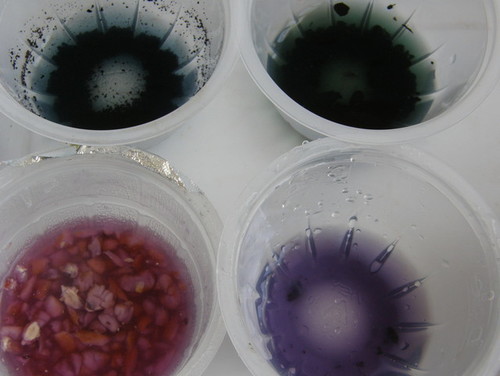 This post was edited by Strawberryhill on Fri, Jul 25, 14 at 8:48