Anti-fungal effect of whole grain corn meal
strawchicago
(zone 5a)
August 26, 2013
Abstract from below link: "Activity of propionic acid was assessed by measuring the production of CO2 by fungi in the mixtures. Antagonism was observed with soybean meal, fish meal, poultry by-product meal, and limestone. Corn gluten meal was without effect while the addition of fat to corn meal enhanced the activity of propionic acid."
In a soil research, there's more fungal growth than bacteria when the pH is neutral to slightly acidic. But both bacteria and fungi are suppressed when the pH is very acidic, below 4. Crack-corn is sold $2.99 for 10 lbs. at the feed-store, its VERY ACIDIC at pH 3.5, and become even more acidic when decompose in the planting hole. OK for to break up my rock-hard alkaline clay at pH 7.7 months in advance, but not best for someone else.
I mixed cracked corn in late fall, so my zone 5a winter kill any corn-plants that sprout. In contrast, it would be a pain for someone else in a warm climate with corn sprouting all over. NPK of corn meal is 1.6 / 0.65 / 0.4 compared to horse manure NPK of 0.44 / 0.17 / 0.35.
You can see that corn has higher nitrogen, almost 4 times more phosphorus, slightly more potassium, plus B-complex vitamins, 39% magnesium, 23% iron, 29% phosphorus, 10% potassium, 30% manganese, 37% selenium, 12% copper, and 15% zinc. The strongest anti-fungal agents are zinc, then copper, and last is selenium.
The pH of baking soda is also alkaline, from 8.3 to 8.5. In the microbiology class I took, fungal growth is minimal when the surface is dry and alkaline. Fungi increases substantially with add sugar in a neutral to slightly acidic medium. All microbes are suppressed at very acidic pH, below 4. I already tested pH of cracked corn in red-cabbage juice, slightly less pink than vinegar, but very acidic.
I have alkaline clay soil, pH 7.7 (tested by EarthCo.), my roses are pale-in-color, but have very little fungal diseases. In my pots experiment, when I topped a few pots with slightly acidic alfalfa meal at pH 5.7 ... fungal growth was max with black spot spores germination to be splashed up to leaves.
Below is a picture of Pat Austin, along with 5 other Austin roses. They are clean, no fungal diseases for the past 3 years. I keep the surface DRY and ALKALINE, by mulching with recycled wood-chips (has mold retardant), then dust the ground and lower part of roses with whole-grain corn meal (very acidic, pH below 4) when we have constant rain in late fall.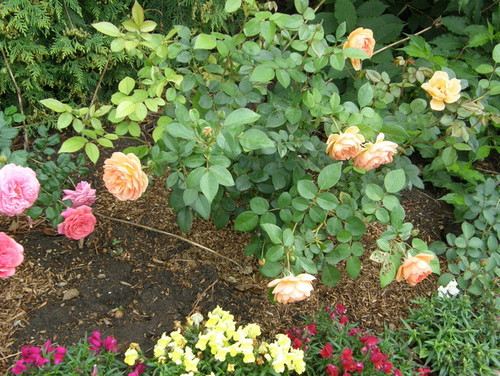 Here is a link that might be useful: Corn meal and Antifungal activity of Proprionic Acid
This post was edited by Strawberryhill on Mon, Jul 21, 14 at 14:39