Calcium for root growth and uptake of nutrients
strawchicago
(zone 5a)
August 25, 2013
In acidic soil, aluminum is toxic to roots, versus calcium chloride and calcium sulfate (gypsum) help root growth. Aluminum decreases both root growth and nitrate uptake. Pine bark (pH 4.5 when dry, and more acidic when wet) has both aluminum and manganese.
In my last house with acidic clay, I mulched roses with pine bark and they were wimpy disease-fest. From my microbiology class, wet and acidic surface foster fungal growth. Keep surface dry and alkaline is best for roses.
Here's an excerpt from: http://link.springer.com/article/10.1007/BF00011325
"Root elongation at 1 mM Ca2+ was decreased to 63% of the control by the presence of Al3+. Raising ambient Ca2+ from 1 to 10 mM in the presence of Al3+ restored elongation rates to 78% (CaCl2) and 88% (CaSO4) of elongation without Al. Because reductions in root elongation were partially overcome by added Ca2+, but lowered uptake of NO3 - was not, it was concluded that Al3+ toxicity decreased root growth and NO3 - uptake by different mechanisms."
*** Note: Al3 is aluminum, NO3 is nitrate, CaCl is calcium chloride (high salt), Ca2+ is calcium, CaSO4 is calcium sulfate, known as gypsum (salt-index of 8).
I found a Texas A & M research on the role of SOLUBLE calcium in increasing grain weight, and also bulbs of vegetables. There's also a government document on the role of calcium to manage 35 physiological disorders in plant, among them blossom end rot on tomatoes, end rot on pears, and increase firmness in blueberries.
http://www.ams.usda.gov/AMSv1.0/getfile?dDocName=STELPRDC5067064
Calcium chloride is used in agriculture, it's different from sodium chloride (table salt). Both have high salt index, that's why I use Calcium sulfate (gypsum) with a low salt index of 8.
See below link for Texas A & M research, application of soluble calcium increase absorption of ammonium up to 100%, which explains why my Duchess de Rohan went from pale leaves, to dark green with SOLUBLE gypsum (calcium sulfate).
Below is Duchess de Rohan bought from Roses Unlimited as own-root end of July. It had yellowish leaves, so I chopped it down to 6 inches when I potted it. Picture is 1 and 1/2 month growth, with 4 buds, fertilized with soluble gypsum and molasses: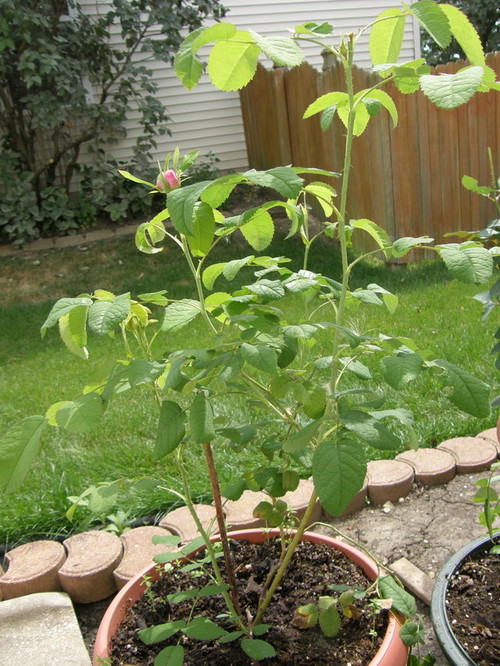 Here is a link that might be useful: Texas A & M Research and soluble calcium
This post was edited by Strawberryhill on Sun, Aug 25, 13 at 11:32