Powdery Mildew, alfalfa hay, pellets, and meal
strawchicago
(zone 5a)
August 13, 2014
In my previous rose-garden of acidic clay and neutral tap water ... zero mildew on my roses. In my current garden of alkaline heavy clay and pH 8.3 hard-well water, no mildew until I stressed 3 of my roses by giving them acidic fertilizer high in nitrogen, NPK 10-5-4. High nitrogen chemicals also have the highest salt-index.
All 3 of my gallon-size-roses: Mary Magdalene, Pat Austin, and Radio Times broke out in mildew, and did not improve no matter how much tap-water given. Back then, I didn't know about calcium hydroxide in alkaline-tap binds up with potassium & phosphorus & trace elements.
The mildew went away after I scraped off the high salt, high-nitrogen, high acid fertilizer (with sulfur). Green Cure or potassium bicarbonate is effective in treating mildew, to be sprayed on leaves, with pH 8.2. It also supplies potassium. Drawback? it's high in salt.
Here's an excerpt from Wikipedia on potassium bicarbonate: " Potassium bicarbonate is an effective fungicide against powdery mildew and apple scab, allowed for use in organic farming, Potassium bicarbonate has widespread use in crops, especially for neutralizing acidic soil."
I achieved the same result, but with less salt, when I fixed the mildew on my pots with gritty lime and sulfate of potash, after 1-week of rain. I see potassium bicarbonate, or Green Cure, as effective to spray on leaves ... but the salt content is not appropriate to douse soil with.
I used alfalfa meal for 3 years. Here are the pros: 1) fast growth, lush & shiny & healthy leaves. The cons: 1) Very dusty, bad for lungs & allergies. 2) Very stinky, strong barnyard odor. 3) attract dogs, chipmunks like to dig up 4) its fine-particle glued up with my clay into concrete.
I'm testing alfalfa hay. Here are the pros: 1) growth is good, clean & healthy foliage. Topping with that stuff promote earth-worms underneath, plus promote nitrogen-fixing bacteria. 2) Almost no smell, smell like grass if you stick your nose really close 3) much cheaper, $8 for a big bale
The cons of alfalfa hay: 1) Messy looking with that stringy hay on top 2) Absolutely awful when mixed in the planting hole, can't break up heavy clay like cracked corn nor gypsum. I'll ask the feed-store to special-order Standlee alfalfa pellets (no salt & no sugar), will report.
Below are gallon-size white Mary Magdalene, orange Pat Austin, and pink Radio Times with mildew after acid-fertilizer high in nitrogen & salt was applied. Picture taken more than 3 years ago, when they were tiny own-roots: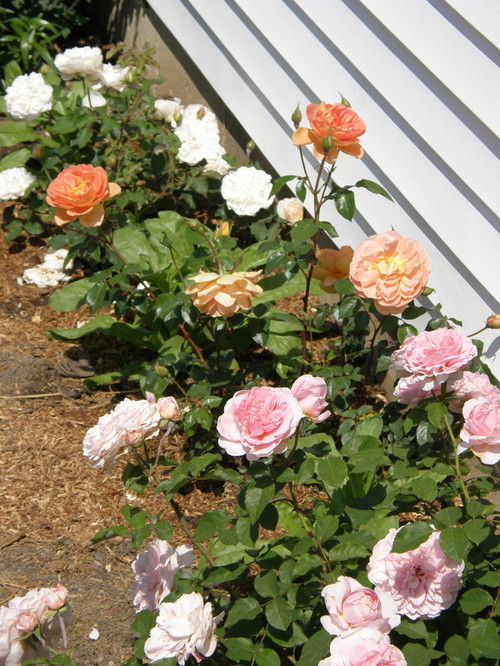 Here is a link that might be useful: Green Cure or Potassium Bicarbonate for mildew