Organic fungicides: limestone, pyrethrin, potassium bicarbonate
strawchicago
(zone 5a)
September 12, 2013
My last house, 1/2 hour away was acidic clay ... major black spots despite spraying. I was discouraged and gave up on roses. My present house, alkaline clay with limestone, pH 7.7, fertilized with alkaline horse manure (had lime), and chicken manure.
No black spots for the last 2 years with my 55 roses, until this year's experiments with cocoa mulch (pH 5.6 to 5.8), plus stable stops liming and switched to wet & acidic bedding. Roses mulched with acidic cocoa mulch are 10% infected with BS, and the 7 roses mulched with new horse manure are 30% infected. The rest of roses NOT mulched, just alkaline limestone clay, are still clean. Also no chicken manure this year.
Two sites documented high copper, zinc, and boron in chicken manure. Those elements are added to chicken feed, Here's a quote from link below "Their feed manufacturers know, that Copper and Zinc added to the feed ration increases growth, and that Boron is essential for the utilization of Calcium." Copper is a fungicide.
Here's a recipe for homemade fungicide: "�Bordeaux mixture for use during the dormant season can control some fungal and bacterial diseases. You can make your own Bordeaux mix with ground limestone and powdered copper sulfate. Mix 4 parts of each with 50 gallons of water."
Below is Mirandy Hybrid Tea in my limestone clay, fertilized with chicken manure ... picture taken last fall: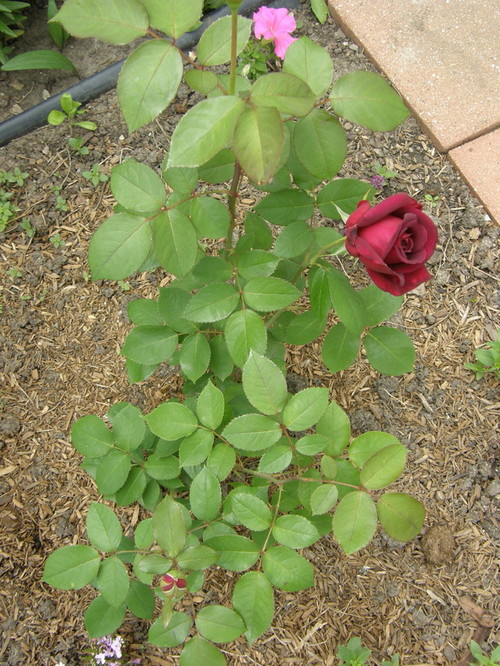 Here is a link that might be useful: Why chicken manure stimulate plants' growth?