2011 Lopsided Garden / Lumpy Roses Part I
serenasyh
(was 5/now Z 8-Kans)
May 29, 2011
Lol, just when you thought it was safe to enter our Rose Gallery, I blunder in like an unstoppable Giant Gumby creature, tee-hee. I apologize for going crazy with rose photos, but when you have as hideous and awkward of a garden as mine, you get DESPERATE! The photos are illogically placed because seeing too many of the same roses gets to be extremely annoying, but beauty very rarely comes to my garden- I'm so used to bare, naked and ugly with the terrible floods of 2010, and 2011 is degenerating into the same soggy mess. However if you want to fast-forward and skip all these photos, there is one important thing I want to say. It's about my friend Tim Dyer and also about the wonderful inspiration and cheer that Boxofrox gave me last year when I was "Down-in-the-Dumps", and how I'm "paying it forward" especially for this Memorial Day Weekend....The tribute to Boxo is at the very bottom of this page so that everyone can easily scroll to that last paragraph...
As for bloom times in my garden, Cornelia sat on her buds for eight weeks. It was my first bloomer (May 11th). Second was my frail Distant Drums that lost 2 out of 3 of its pencil canes and was barely 5 inches tall at the beginning of the season. DD's nickname is "Baby DD in Diapers" trying to be a Napoleon. Gave me a 3" bloom at the final height of 7", lol! Lincoln's multiple buds remained in tulip form (patially open)for 2 entire weeks, SHEESH! Climbing America only had one bud ready, which opened a little more than Lincoln, but then came to a standstill. Then Lincoln busted ahead with a fully open bloom on May 21st. Bloomtime for me starts at the tulip stage so L. and C.A. were tied up in the twilight zone of May 17th.
The Lincolns: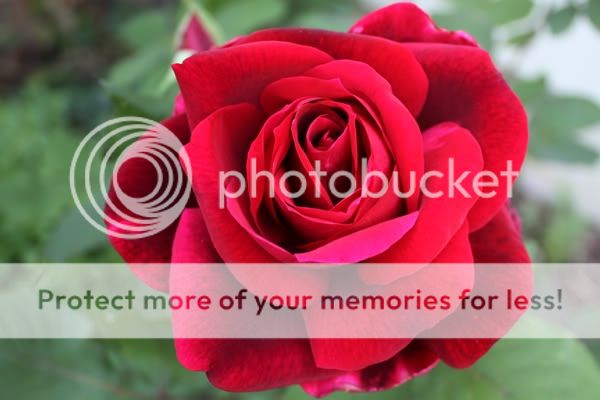 Cornelia Hybrid Musk: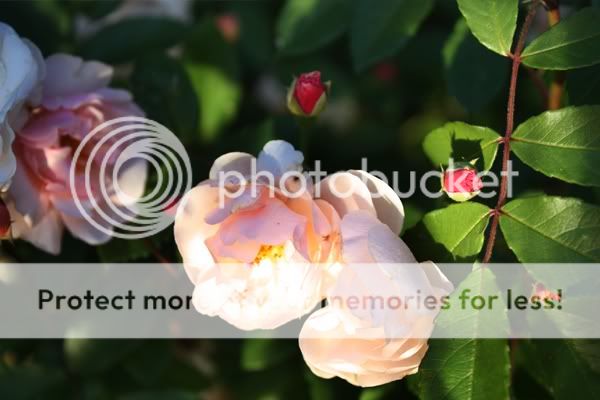 Climbing America:
Distant Drums Shrub Rose:
Folklore: not the right light conditions to show the intense bicolor that is true to life, but at least the orange is better preserved.
Compassion: when the blooms aged, they actually healed up from some of the bruising of rain damage, much to my relief.
More Lincolns:
Another closeup of Cornelia:
Cornelia was a spindly, sparse 12" plant late May 2010 when I received it-barely 3 flushes with only one handful of blooms each, lol. Pretty big now in late May 2011 :) And it's still blooming bigtime. I was very busy this Spring, yelling at it for being a bud-hoarder (8 weeks of waiting on "sterile" buds). My good friend DorsetMike from Peter Beales also explained another interesting habit of hybrid perpetuals and hybrid musks. Every cluster will open one bloom at a time, that way the flush extends the longest. Here is Eluane, helping my clumsily arranged garden look less hideous from that nasty wire fencing put up against my arch-enemy, the rabbits!
More images of Climbing America:
Ferdinand Pichard: Beautifully healthy baby band from Linda (Long Ago Roses) had this gorgeous bloom on it when it arrived on my doorstep: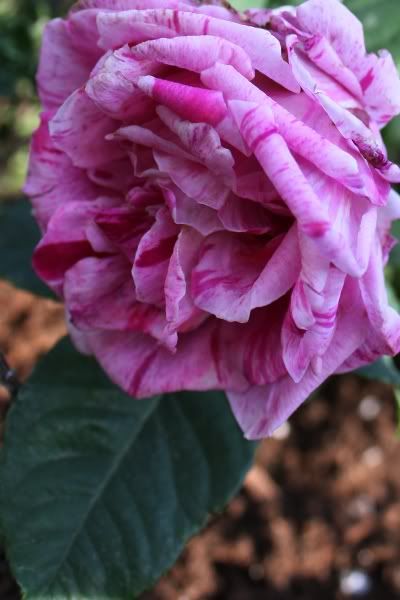 More images of Folklore bicolor shows better here but the true orange is lost by the camera:
Lol, a rose is a winner if it can put up with all this rain, haha!
One last set. I never had the chance to post this 2010 late fall photo of beautiful Frederic Mistral last year because I had been swamped with work at the time. Frederic Mistral is growing in full shade.
And here is my sad Swansong to Mrs. B.R. Cant, RIP, another end-of-the-year "new" photo.
O.K. here is the scoop about our wonderful Boxofrox, especially those of you who are new to the Rose Gallery. Boxofrox has such a gorgeous amazing garden and is such a kind, caring wonderful person! Every year we've been blessed to see his bouquets to dear neighbors who have suffered loss or sickness, he's had bouquets sent to elderly residents, built an entire deck, planted roses for his niece, such a joy to others. And in the same way, when I was down in the dumps from unemployment and a horrid garden year, he had started a Happy Birthday thread that really cheered me up. So the best I could do was a "pay forward" from Boxofrox to my friend Tim Dyer. Tim is an amazing Master Agility Champion AKC Handler, trainer and instructor, who has brilliant Border Collies and is loved by all his students-- I can easily see his dog Zen making it to the World USA Team to go to Europe for example. He and his young dog are that good. His older dog, Frankie, also is a brilliant MACH-titled dog too. Well just a few weeks ago, Tim suffered a relapse from his detached retina. The first go-around his eye had healed nicely and he had recovered a decent portion of his vision. Well, this time he had complete and total vision loss and had to again! go through emergency surgery. This can be devastating because you need both eyes for a fast moving dog and to compete at National and International levels. From what he has last told me he can still see a tiny bit of color in his left eye, so we are still keeping our fingers crossed for his recovery. So what I'm gonna be doing is taking the best of these photos and doing a Get Well Slide show for Tim to cheer him on (sort of a homemade Get Well card)....just the way Boxo had done for me! So here's a cheers to our Wonderful Boxo!