Mismarked roses - Queen Elizabeth and Peace, Cl?
DPallas
(z6, SW Mo)
July 8, 2005
I knew this was mismarked when I bought it, the tag said Climbing Don Juan, but the buds were pink. I've been guessing that it's Queen Elizabeth, the petal count and foliage seem right. If it is Queen Elizabeth, is there any chance it's the climbing version? These blossoms are on top of a 44" basal that popped out shortly after I planted it. If it was a climber, would I still see a cluster like this or would there just be a single bloom?
Queen Elizabeth?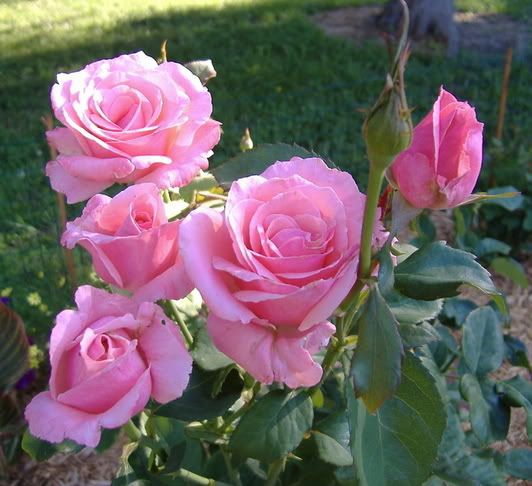 This is supposed to be Peace, Cl., but there's very little if any yellow at the centers. It has 65 petals vs the 43 listed for Peace at HMF, couldn't find a count for the climbing version. Are these just normal environmental variations?
Peace, Cl?