Ways to grow healthy roses without spraying
strawchicago
(zone 5a)
September 18, 2012
Disease is subjective to type of soil and fertilizer used. Check out this abstract: "Contrasting Soil pH Effects on Fungal and Bacterial Growth � 1 by Department of Microbial Ecology, Lund University, Sweden .2. Soil Science Department, Rothamsted Research, UK. ABSTRACT "The influence of pH on the two principal decomposer groups in soil, fungi and bacteria, was investigated � The growth-based measurements revealed a fivefold decrease in bacterial growth and a fivefold increase in fungal growth with lower pH."
My last house 1/2 hour away: acidic soil mulched with acidic pine park - the worst black spots on roses despite frequent spraying.
My current house: alkaline soil, next to a limestone quarry, with well-water high in lime, mulch with horse manure (has lime). My water is alkaline, pH of 8 and my soil pH is 7.7. Lime is alkaline and also a natural fungicide. I don't spray, but had 10 clean Austin roses last year, and again with 38 clean roses this year (hybrid teas, Austin, Romanticas, and floribundas).
This year I did some experiments: I put Hollytone fertilizer (same as Rosetone, except with sulfur). Four roses applied with Hollytone broke out in blackspot, the rest mulched with horse manure are clean. I also dumped coffee ground and rotten tomatoes around Firefighter rose: it broke out in blackspots immediately. In contrast Paul Neyron rose is 100% clean with neutral potting soil, plus alfalfa meal, lime and 45% COMPOSTED pine-bark (has tannin, a natural fungicide).
Below is my healthy Paul Neyron rose, taken in 70% humidity and prolonged rain, despite rain water being acidic with pH of 5 to 5.6. Paul Neyron is known for very blackspot-prone. I don't spray.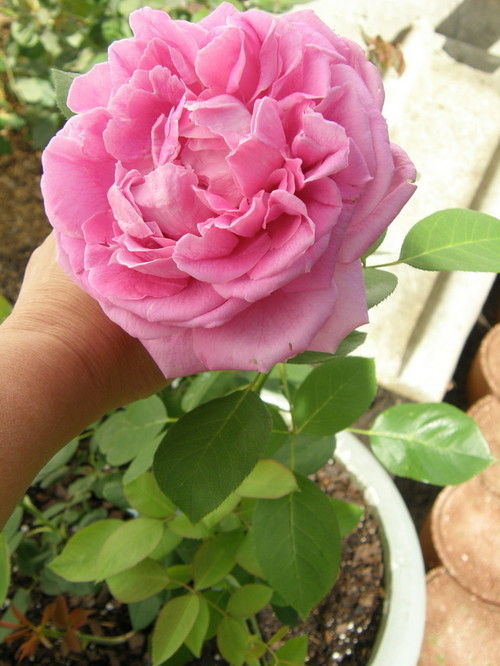 Here is a link that might be useful: Paper on fungal growth and lower soil pH