Organic ways to control mildew, blackspots, and rust
strawchicago
(zone 5a)
September 23, 2013
I found a great link on organic ways to control plant diseases. Here's an excerpt:
"pH Up: pH-Up is a generic term for alkaline pH adjustors, used to increase water pH in indoor gardens. They come as either a powder or liquid. Its active ingredient is usually lye (KOH) or potash (K2CO3).
Fungi require an acidic environment to grow and die in alkaline environments. Changing the leaf surface environment from acidic to alkaline clears up the infection. An alkaline solution with a pH of 8 will make the environment inhospitable for the fungus and will stop its growth. "
**** From Straw:
Below are 2 thornless Gina's Roses, picture taken this September 22. They are fertilized with diluted molasses & a tiny bit of gypsum to neutralize the bicarbonates (hydrated lime) in my hard water (pH 8). Zero granular fertilizer, no mulch either. The surface is alkaline clay, pH 7.7. Gina Rose is healthiest among my 55+ roses.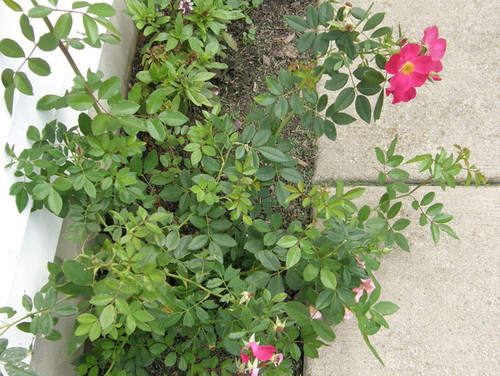 Here is a link that might be useful: Urban Garden Magazine on organic fungicides
This post was edited by Strawberryhill on Tue, Sep 24, 13 at 11:12