Bouquets of no-spray roses
strawchicago
(zone 5a)
September 1, 2013
Roses can be beautiful with no-spray, less chemicals. I have rock-hard alkaline clay (pH 7.7) ... at first I fixed with peat moss, that glued up. Success with larger particles: coarse sand, compost, and pine bark (pH 4.5),
My heavy clay retains salt, so I use organics. The stable switched to wetter and more acidic bedding ... I no longer use horse manure. I used alkaline whole-grain corn meal as fertilizer with great results: shiny leaves and fungal-prevention. Here are my bouquets:
Below dark red rose is Stephen Big Purple. Dark mauve rose is Old Port floribunda. Yellow rose is Honey Bouquet floribunda.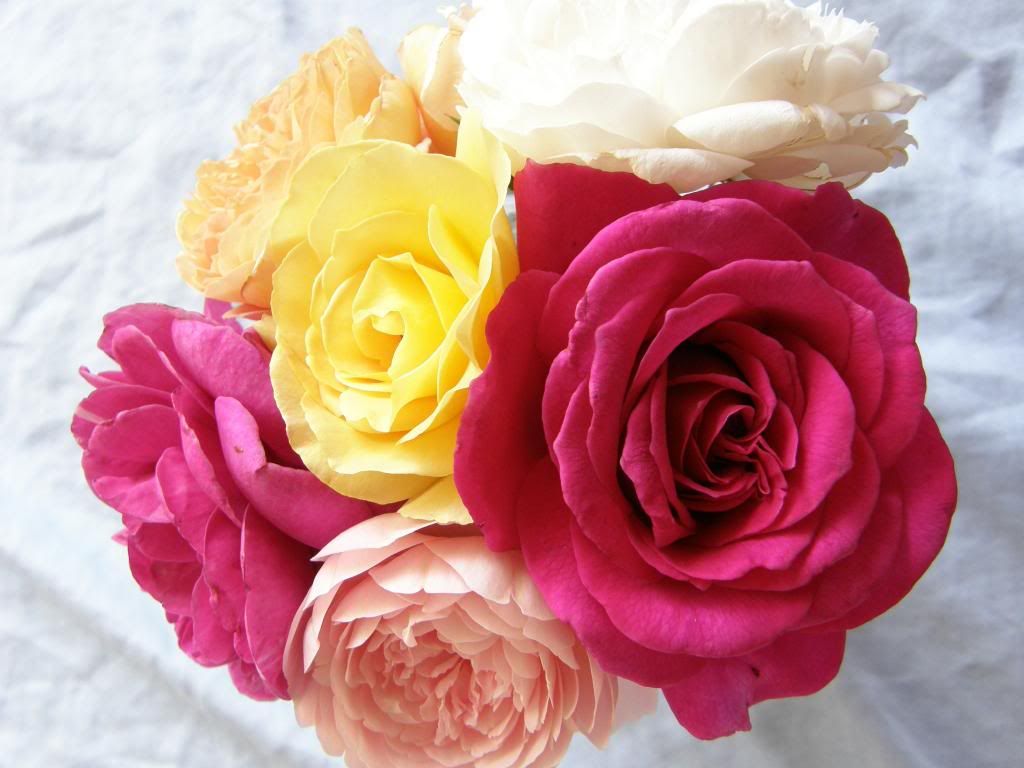 Dark pink is Evelyn Austin rose, color deepened with molasses fertilizer.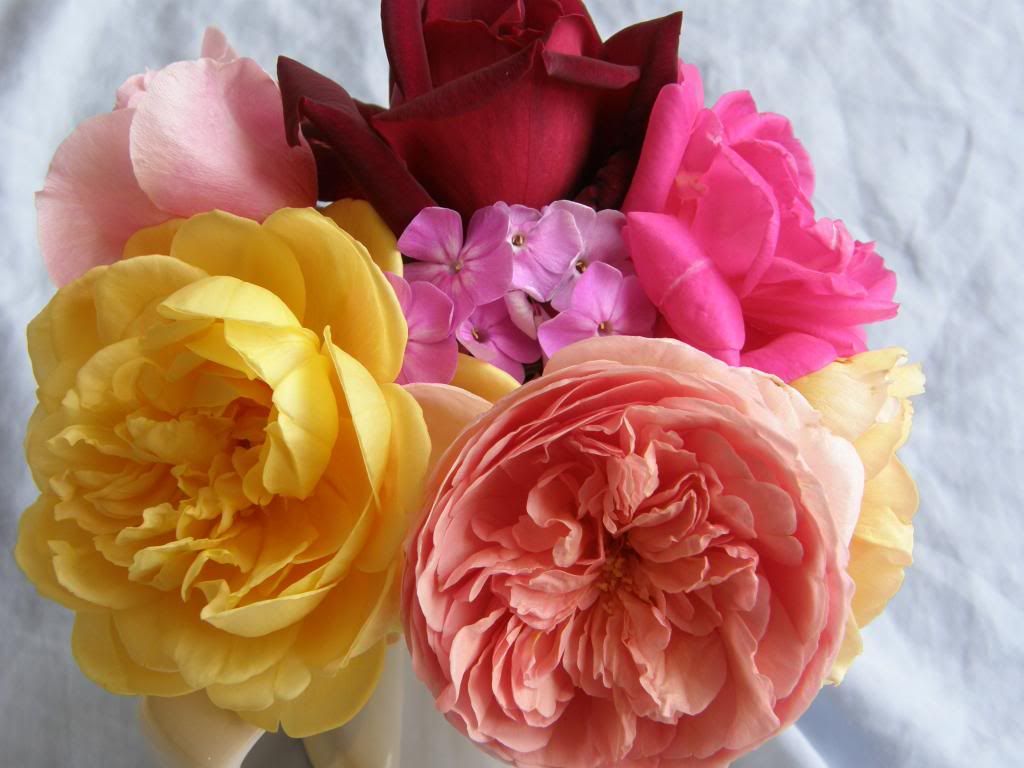 Below are Bolero rose (white) and Sonial Rykiel (pink) .. color got deepened by watering 1 tablespoon molasses/vinegar per 2 gallons of water. I get pale pink from that rose for the past 2 years until now.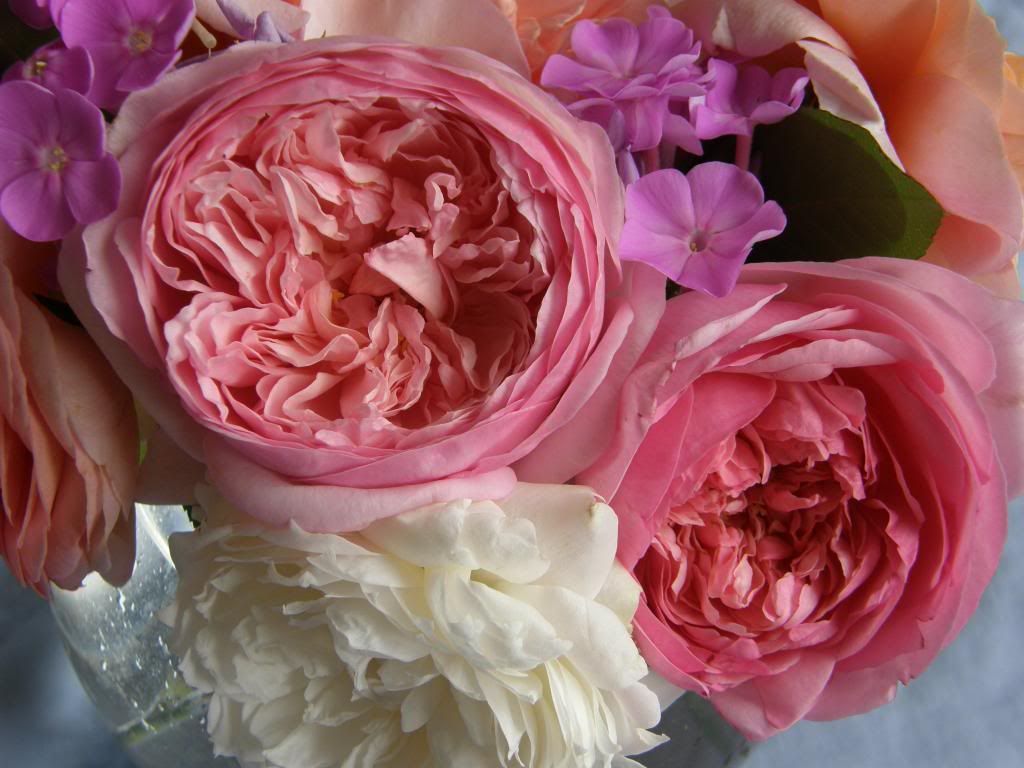 Below big pink is Pink Peace rose, and the little spray of tiny blooms are "Annie L. McDowell" thornless rose, scent of lavender and lilac. Both perfume the entire room.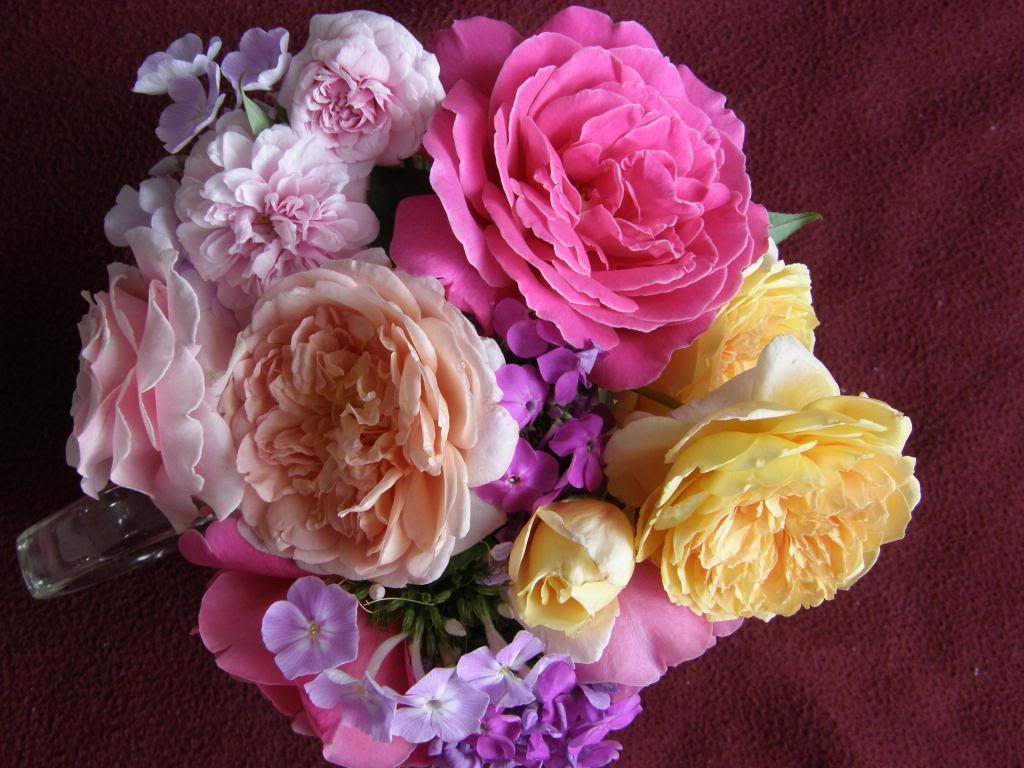 Below orange is Versigny rose, heavenly floral fruit. Yellow rose is Golden Celebration, smells like cup-cakes. Pink rose is Evelyn with floral peach scent:
Below purple rose is "Deep Purple floribunda", a disease-resistant Kordes. Yellow rose is Golden Celebration. Lavender blooms are "Rose of Sharon" perennial.
Below big orange rose is "Sweet Promise hybrid tea", almost thornless, smells like apple blossoms. Evelyn rose is pink in the middle, Frederic Mistral rose is upper right.
This post was edited by Strawberryhill on Mon, Oct 7, 13 at 9:25