Balanced and less fertilizer is best for plants
strawchicago
(zone 5a)
September 5, 2013
EarthCo. that tested my soil recommended adding phosphorus. In my pH 7.7 alkaline limestone clay, phosphorus is tied up with calcium and magnesium. My soil is also tested barely adequate in calcium.
I checked on the amount of phosphorus to apply. I could only find info. for alfalfa, research done by Purdue University Extension, here's my summary from PDF file:
"A seven year Purdue study started out with very low phosphorus (8 ppm) and medium potassium (70 ppm) soil test levels. The results show the highest yield in alfalfa with: 50 lb. of phosphorus and 300 lb. of potassium. That's six times more potassium than phosphorus.
Another success is 100 lb. of phosphorus and 200 lb. of potassium. That's twice more potassium than phosphorus. Their study also showed decreased quality of plants with excess chemical: low leaf-to-stem ratio, and P and K cause shoots to grow taller and thicker. See link below:
Conclusion: organic fertilizer is best, since it's in a balanced ratio. Examples: cocoa mulch at NPK 3-1-4 with all trace elements, unsulfured blackstrap molasses with NPK 3-1-5, calcium, and all trace elements.
Dry chicken manure has NPK of 1.6 / 1.8 / 2.0, and all trace elements. Fresh horse manure has NPK of 0.6 / 0.3 / 0.5, versus fresh chicken manure at NPK of 0.9 / 0.5 / 0.5 .... Data taken from NC University Extension.
Below is Basyes Blueberry Rose, 100% thornless, intense wild rose, very disease-resistant. It was stingy when I gave it too much calcium (gypsum) and potassium.
Recently in hot August, I fertilized it corn meal instead, NPK 1.65 / 0. 65 / 0.4, and diluted molasses NPK 3-1-5. More flowers, the purple bloom below is Angel Face: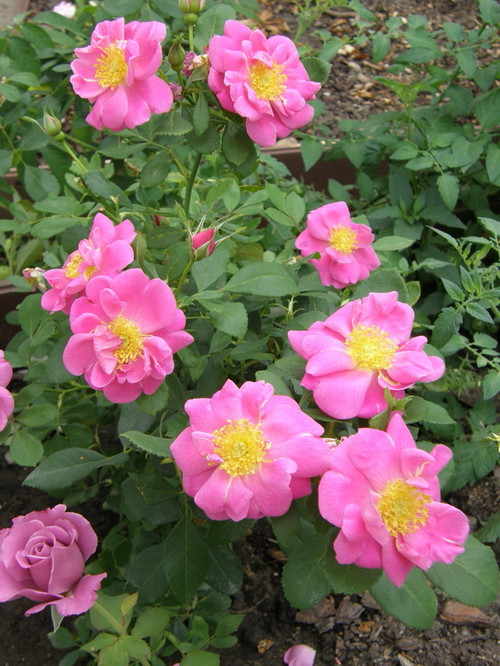 Here is a link that might be useful: Purdue research on phosphorus and potassium
This post was edited by Strawberryhill on Thu, Oct 10, 13 at 11:05