Mystery Daylily in my Crocosmia!
highalttransplant
(z 5 Western CO)
July 3, 2009
In the fall of '07, Skybird brought me a Crocosmia 'Lucifer' from the RMG plant swap that I was unable to attend. I want to say that it came from Catladysgarden, but I'm not certain on that. Well the other day, I noticed a stem with some buds on it. I thought, wow, it's kind of early for the Crocosmia to start blooming, and then I realized it looked like a daylily. So I started looking at the foliage, and sure enough, there was some daylily foliage mixed in with the Crocosmia leaves. Well, this morning the blooms finally opened, and I have no idea what this is. I have 'Happy Returns' to the right, which is yellow, and 'Fooled Me' to the left, which is orange. There is a 'Merle Kent' a couple feet away, but it is pretty small still, so I don't think it could be popping up that far away yet. Anyway, does anyone have any idea what this might be? Catlady, if you see this, maybe you might recognize this?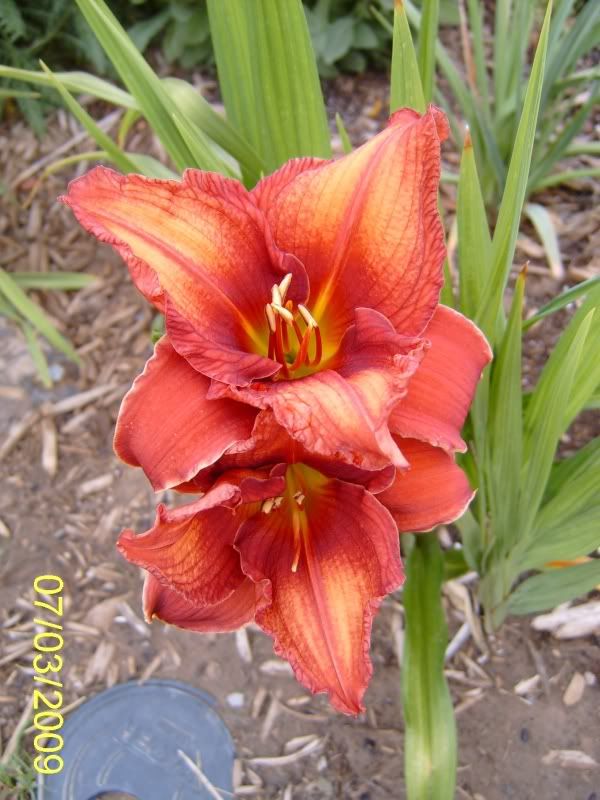 I think it's a gorgeous lily, fits perfectly with my color scheme, just wondered what it's name is. The funny thing is if this thing hitchhiked in with the Crocosmia in '07, that it didn't show up last year.
Oh, I've included a link to a photo of 'Merle Kent', but it doesn't have the orange on the petals the way this one does.
Bonnie
Here is a link that might be useful: Hemerocallis 'Merle Kent'