almost embarrassed to show you this
digit
(ID/WA)
July 26, 2010
. . . onion in storage from October to the last week of July!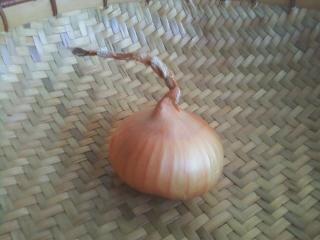 We just carried some of our 2010 potato harvest down to a room in the basement. In a basket, in the "cold room," in the basement . . . what do we find: this yellow onion!
It is from a set that was probably planted amongst the tomato plants in the spring of 'o9! The tomatoes overwhelm the onions and there are always a few that aren't harvested until after frost kills the tomatoes.
Otherwise, my storage onions in 'o9 were mostly the Sterling Whites I bought from Dixondale Farms and set out as plants. They were lovely but sure weren't capable of lasting 9 or 10 months, plus!!
This house that was built over 100 years ago. That is, the front rooms of the house were. The basement and the rooms above it were added later but there is a room directly under the living room floor. It was used for food storage and there are shelves. The walls are concrete and rock but the floor is dirt - or what passes for dirt around here: gravel.
I use this room to store dahlia roots, gladiola bulbs, potatoes and onions during the winter.
The thermometer in the basement cool room shows 64° right now - it's well over 90° outside. During subzero weather, the temperature has been as low as 35°. You can imagine, I get a little nervous when it's that cold with all those roots down there thru the winter. Usually, it stays about 45° to 50°. There's no special insulation.
There is absolutely nothing wrong with this onion! I sauteed it in a little vegetable oil, dropped in some small meatballs with some stock and noodles. Enjoyed it with whole grain toast for lunch.
I have literally been harvesting onions for months - scallions, anyway. Sweet onions began to bulbed up about 2 weeks ago and they are a good deal bigger than this little guy. But . . . there he is. Or, was . . .
Steve