Capsaicin Distillation From Nuclear Peppers
Edymnion
(7a)
October 22, 2012
The goal is to use the excess powder created from this year's nuclears (Bhuts, Butch T's, and Douglahs) to produce concentrated capsaicin crystals.
The Goods
These are my starting ingredients and tools. We have:
1 bottle of nuclear pepper powder
1.75 liters of 190 proof alcohol
1 (case) Medium sized canning jars (will only use one though, can't buy just one of those things though)
1 canning funnel
1 package coffee filters
1 oversized novelty martini glass
1 photo bombing cat (optional)
The Theory
The chemical that makes peppers hot, capsaicin, is a hydrophobic molecule (meaning it repels water). This is why drinking water only spreads a burn around in your mouth, the water only causes the "oil" to spread around more evenly. To actually dissolve capsaicin you need a non-aqueous solvent, in this case ethanol. By reducing the moisture content to nearly zero (dehydrating your peppers) and increasing the surface area as much as possible (making them into a powder), one can then soak hot peppers in solvent (alcohol) to dissolve the capsaicin into the liquid and then evaporate it off to leave behind the (relatively) pure capsaicin in crystal form (basically like making rock candy out of sugar dissolved in water).
The Practice
First off, I take the pre-powdered nuclear peppers and dump them into my canning jar. One coughing/sneezing fit later, we have most of the powder in the jar, and the remainder on the inside of my nose.
Next up, our solvent. Ideally you'd want as pure of a solvent as possible, like hexane, but that stuff is expensive. Instead, I hit a local liquor store and obtained some "food grade ethanol", aka 190 proof grain alcohol. This one happens to be Golden Grain brand. Many warnings here, this stuff is crazy dangerous. Do not drink this stuff straight, and don't get it near fire. It burns with an invisible flame and can easily explode if the main container is near an open fire or extreme heat source. An invisible explosion. Seriously, you'd have to be brain damaged to drink this stuff, and if you weren't when you started you probably will be by the time you finish it. Just say no to this stuff, just use it as a solvent and pour it in the jar enough to fill it and give it a good shake to mix it up.
Now ideally you are supposed to have at least a 7:1 ratio by volume of solvent to powder for this, but my evaporation vessel is a little small, so I will be running multiple rounds of solvent through the pepper mash to make up for the higher concentration.
Once the jar is filled and thoroughly agitated to mix it (shake the living bejeezus out of it), set it in a cool dark place (like the cupboard) for a couple of days to let it soak.
Right now, this is as far as I've gotten.
Next Steps
Let the jar sit for a few days, shaking occasionally to keep it well mixed. After those few days have passed, prepare your "evaporation vessel".
Yes, I mean the giant martini glass. Why did I pick a giant martini glass for this? Two reasons. One, it has a very wide mouth which will allow for a very large surface area during evaporation. The more surface area on the liquid, the faster it will evaporate. Two, it tapers down to a point. Like rock candy, the thicker the mix gets while evaporating down, the more it will start to form crystals. As the "water" level drops, it will help concentrate any crystals that form along the wall to the middle area. Means you'll only have to scrape out a little bit of the container instead of the entire thing.
Next, get the funnel and the filters ready.
These filters fit very nicely into the canning funnel I found. I will pour the mixture from the jar through the filter to remove any particulates (aka the powder mash) so that we get only pure alcohol and capsaicin in the evaporation vessel (now you see why I keep calling it an evaporation vessel, "pour your booze in the giant martini glass" just doesn't sound as sciency).
Long slow evaporation makes for bigger crystals (which are in turn easier to collect), and I plan on using the long evaporation period to my advantage. Once the jar mixture is filtered into the glass, I'll scrape the mash off the filter and back into the jar. Pour in a fresh batch of solvent, and then let it soak while the first glass full evaporates down.
Ideally by the time the glass evaporates, the jar will be ready to be poured out again. I'll repeat this until either I run out of solvent.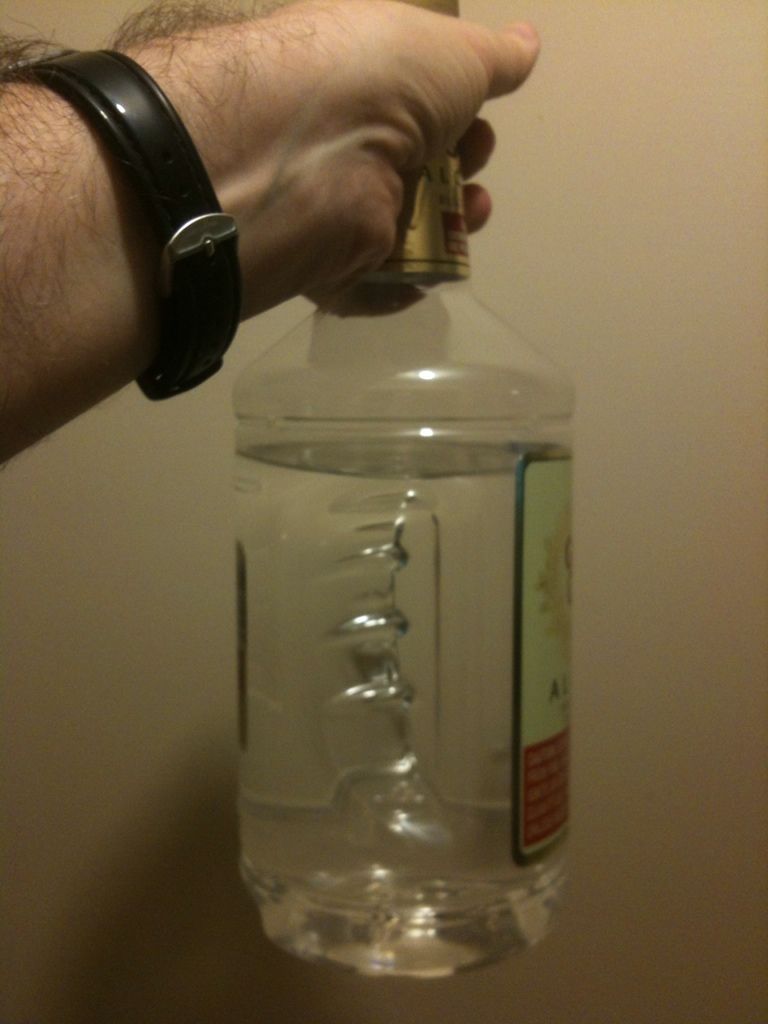 Judging by how much I have left in here, I'll probably be able to do that a half dozen times, which is most likely overkill. Change of plans, I'll do it 3 times and then give the mash a taste test. If my tongue survives the experience, I'll know its pretty much done.
I could speed things up a bit by heating the evaporation vessel to speed up the evaporation, but I have a few reasons why I don't think thats a great idea.
One, as I already said, slow evaporation means gradually increasing concentrations of capsaicin until it reaches saturation and starts to fall out and form the desired crystals. The slower the evaporation, the greater the odds of having a few big crystals form as opposed to a sheet of tiny crystals.
Two, its a plastic martini glass. I'd have to find some way to get the heat up under the glass while avoiding the stem base, and make it so that there was zero risk of melting the plastic.
Three, the solvent is insanely flammable and explosive. Dissolved in this explosive liquid is pure capsaicin. I don't know about you, but the thought of this stuff burning or exploding and spraying that stuff everywhere may very well give me nightmares tonight.
Four, the evaporation process is going to be freaking outside. If I let a half gallon of 190 proof vaporize in the house, I don't know if I could drive to work in the mornings. The glass I can just set out under the carport, maybe put a little cage around it to keep a bird from flying into it, and just not worry about it until its almost dry. Lot less work to set that up than trying to fix up a heating pad or something like that.
---
Pictures of phase two in a couple of days!