Succession Success!
digit
(ID/WA)
August 14, 2013
I have planted summer squash the first week of July as insurance against the May plants playing-out by about this time. Been doing that for about a half dozen years and it works well. I like to use them to follow early cabbage but have employed other schemes, as well.
Last year and in 2013, I added succession cucumbers. I can hardly tell you how much better those cuke plants are than the May sown plants! You see, the problem is June . . . Junuary is so tuff on my garden that things sometimes die! Not from frost but just from week after week of miserable, windy, cold weather.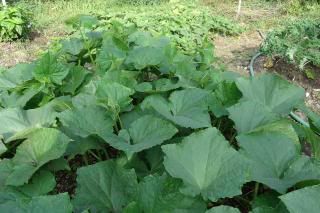 The picture shows cucumber plants that were set out in July amongst the shallots. The shallots were harvested a couple of weeks ago and the cukes now have full run of the bed. Each leaf, has a cucumber! Many, many cukes are gonna come off these vines! Meanwhile, look over their shoulders . . . That little bed of cukes was planted in May. It is a little difficult to see but some of the leaves have begun to turn yellow. The leaves are only about one-half the size as the new vines. They had a difficult start and compared to the youngsters - What a difference!
Maybe I'll take the old vines out, which didn't really produce all that well. There will be more room for the bok choy I have to transplant. This is in the little veggie garden. A couple beds to the right of this shallot/cucumber bed there is a carrot/zucchini bed. The carrots have been harvested. The squash plants look good and a zucchini came off one of them yesterday. The problem? The May zucchini in both the big & little veggie gardens are doing fine. Imma gonna have SOOooo many zucchini by next week . . . . . . . . . . . . . . .
Steve