Greenhouse Interior - I had to do it!
digit
(ID/WA)
October 15, 2013
Ripped the 18' bench out of the middle of the greenhouse!

There it is in serious decay, in 4 pieces - just before the run to the dump!
Here is about 1/3rd of the open floor space with a few bok choy transplants: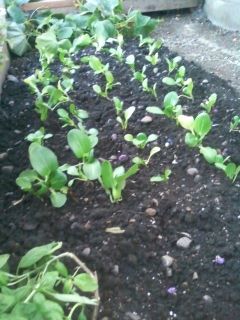 not a very good picture since it was taken a few minutes after sundown with my cellphone
Then, I sowed the remainder of the area with seeds for other Asian greens.
The bok choy was twice-transplanted. I knew I had to get that bench outta there before next Spring and decided I'd replace it with an indoor bed. In August, I sowed bok choy seed. The idea was that the plants could be moved in as the cold weather descended on us. Instead of just thinning the outdoor seedbed - I moved all the plants around in the garden about a month ago. I've never transplanted things twice, that I can remember! This may not work.
The sown seed may not "work" either! My plan is to cover the greenhouse bed with plastic inside the unheated greenhouse. This is the way Eliot Coleman does it in his book on Four Season Harvest. I am NOT turning the heat on until March, work or not work . . .
I may be a couple weeks late but we had lots of cloudy weather up until now. The greenhouse is now toasty warm under bright sunshine every day!
We will see - the bench had to go and a replacement isn't needed for months.
Steve :o)