Pepper Evaluations!
highalttransplant
(z 5 Western CO)
November 19, 2008
I just realized that there was one vegetable that Skybird did not evaluate, and since she doesn't grow them, I thought I better start a thread. There are plenty of pepper growers on this forum, so I hope to get some feedback from some of you!
The peppers I grew this year were all sweet peppers, since DH and the little ones can't tolerate hot stuff. I've decided to try one or two next year that have a little heat, so if anyone can recommend something mildly hot, for things like salsa, I'd appreciate it.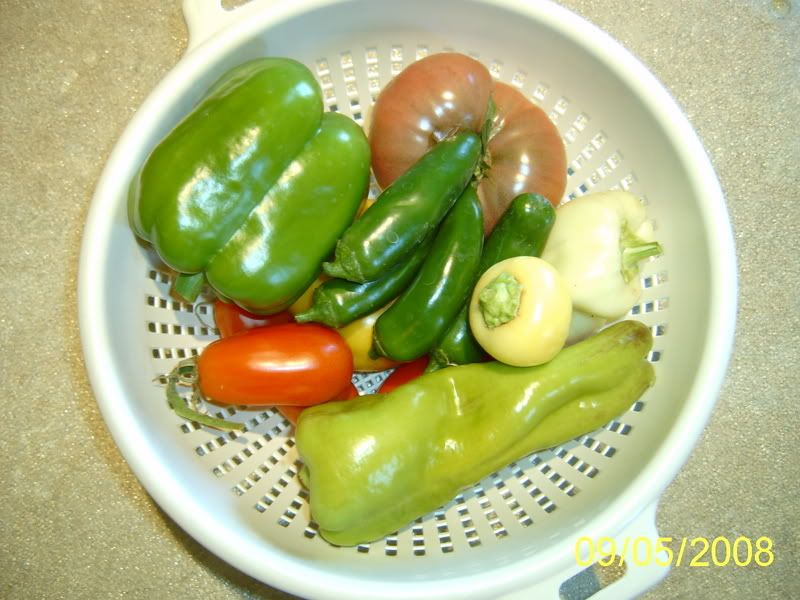 Anyway, here are my pepper evaluations:
Albino - this was supposed to be 65 DTM, but I just barely got one or two ripe ones before the first frost. Probably won't grow next year.
Alma Paprika - Love this one, good producer! I had three plants, two in the ground and one in a pot. The ones in the ground produced more and larger fruits, but this may be my fault, since I probably should have fertilized the ones in the pot more than I did. It was late Sept. before they turned red, but last year the Paprika Supreme didn't even start to turn before the first frost. It makes a very nice, sweet paprika powder when dehydrated and ground. It did need to be staked once it was the fruits were full sized.
Cubanelle - Heavy producer of crisp, sweet peppers. I prefer something with a thicker wall for roasting though, because they were a bit hard to peel the skin off of. Do you guys harvest yours green, or red? Most of mine didn't turn before the first frost. Would grow again if I have the space.
Fooled You Jalapeno - Decent production, and fairly early. They are right about no heat though. I was hoping it would have just a touch of heat, but it does have a nice flavor. Two plants, one in the ground, and one in a pot, and again the one in the pot did not do as well.
Giant Aconcagua - Disappointed in this one. Very late to produce, didn't get as big as I expected, very thin walled. Probably won't grow next year.
Golden Marconi - Seedling was the victim of wind. May try again next year.
King of the North - Decent production. I don't have the date written down for when the first one was ripe, but seems like it was fairly early. My only complaint about this one was that some of the fruits grew in odd shapes, instead of like a traditional bell, which made parts of them not usable, and harder to cut up.
Revolution - This was my favorite this year! Lots of huge, blocky bells. This first ripe one was in late August. Will definitely grow this one next year!
I've already purchased seeds for lots of new ones for next year. Here's the list, and I would love to hear opinions on any of them.
Buran
Canary Bell
Orange Bell
Corno di Toro Giallo
Corno di Toro Rosso
Healthy
Quadrato Asti Giallo
Let me know what else I should have on next year's list!
Bonnie