Candy Land
seil zone 6b MI
July 28, 2011
I finally did it! After 6 years and only ONE bloom (not one flush but ONE bloom in 6 yrs.!) I replaced the NEVER blooming Cl. Peace rose with a new climber. I cut all eight feet of it up into itty bitty pieces and threw it away! It felt very satisfying to do so.
So we went shopping for a new climber this spring. We had been looking at 4th of July for a while now but we saw it in bloom at several nurseries and Alan didn't care for it much. He's not partial to singles for one thing and he thought it looked messy. So we settled on Candy Land instead.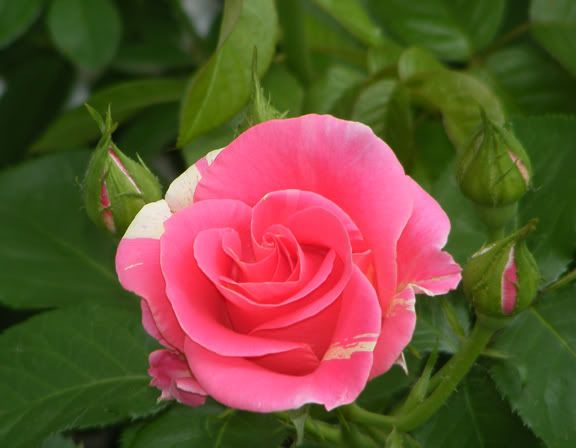 It has more petals and better form and I like the bright pink and yellow stripes!
Still in the pot in this pic but it's settled into the ground now and doing quite well giving me a second bloom.
I know I have a good 3 years to wait before it climbs but at least I'll get some blooms in the mean time!