Messed up! Watering question
Hi! Well-I REALLY wish I'd found this forum/site before I repotted my Sans.
I repotted 2 very full pots that I purchased at Walmart. BUT, I did it all wrong--I know that now from browsing this forum.
I have one of those built in planters in my house--pretty big but it doesn't get much sun. It was filled with small rocks/gravel. I dug out the gravel and buried 7 of those long rectangular planters below the surface. I used miracle grow potting soil and even put a layer of the gravel at the bottom of each pot. I then split out the 2 plants and spread them out so they would all fill in. See? I did it all wrong. I even took pics at the time so I'll try to post them so that you can see what I did.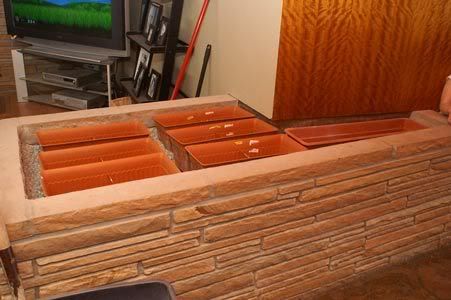 I really didn't know what I was doing. I watered 2 wks. after I planted for the 1st time. As you can imagine, I had lots of leaves turn mushy and die. (Root rot) I cut them off at the base and have not watered since. (I planted these in April). Now I have lots of new pups growing (about 10-12).
I know I should replant with better soil--but it would be sooo much work to dig up. I am scared to water again. Can I use a spray bottle so that I won't overwater? Any suggestions would be greatly appreciated.
(Sorry I'm so wordy) :)