Seed Sharing Station - needs more seed!
OrganicGardenNut
(8)
April 25, 2013
Hi All,
I've been a reading GardenWeb posts for many years now, I always seem to find the answer I need from the many knowledgeable members. I thought it was finally time to become one! If you read the subject, you'll know what I'm posting about. With help from a group called 'eating in public' I started a Share Seeds station at my local library so people interested in growing vegetables, the 'food insecure' or hungry could have access to free seeds and gain some self-sufficiency. So far its been successful! I've stocked the station with hundreds of seeds from my own personal stash and they have disappeared every time within days! I sat and watched one afternoon to see what types of people needed seed. It was a diverse group, young and old, all ethnicities too! I need help! I am running out of seeds to share and am asking if you have seed that will grow well in zone 8, I would love to have them! Any amount will be helpful. Let me know if you'd like to help! Here's a link to view the Share Seed station in action: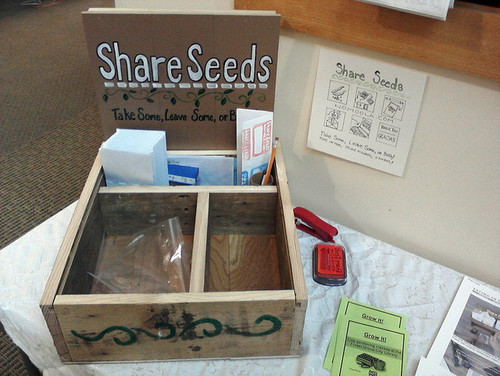 Here is a link that might be useful: Share Seeds - Take some, Leave some or Both!