I forgot to take my own Advice, unpotted it to look
pirate_girl
(Zone7 NYC)
October 14, 2012
About not tugging at plants one's trying to root. Well I didn't tug, but this seems to be taking so long that I got impatient.
A no ID Sans leaf, all green w/ some mottling. (That massive leaf above it is an exotic Hoya.)
Here's the tiny, baby, pup still white from growing underground.
Nice roots w/ it too (grown in mix shown above, not water). Look how cute it is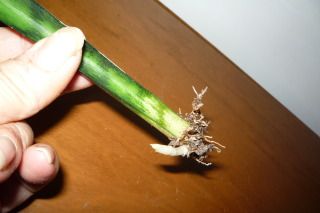 another view
Shots like this always reminds me of carriers carrying jet planes on them.
After breaking the surface, coloring up a bit too.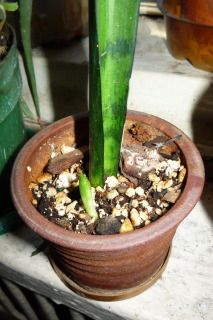 It just keeps on plugging