new: obf march 'egg-stra' special swap
hdiperna
(5 PA)
February 15, 2010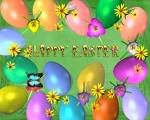 "Egg-stra Egg-stra read all about it"
OBF members now is the time to sign up for our Egg-stra special swap. With Easter right around the corner what could be more fun than Easter eggs....The plastic kind of course.
Here is your challenge should you choose to join us~ You must send your partner 6 filled plastic eggs (Jumbo or regular size). Be Creative! Lots can fit into those eggs...Seeds, candy, nail polish, socks, chapstick.
Sign ups until March 5th. Partners will be posted on the 6th. Boxes must be mailed out by March 26th to ensure they are received by Easter.
*DISCLAIMER: OBF is a year long swap group. You need to be a member to be able to participate in our swaps. If you are NOT a member, but would like to become one, please email either Shirley (brittanysgran) or Carol (veeja11).