tiny new shade bed
ajpa
(z6 se PA)
March 30, 2009
I am going to try to plant some shade plants in a little bed here. We have somewhat acidic clay soil.
I have seeds in WS jugs that might work, I think -- toad lily, columbine, astilbe.
I am also thinking of buying a fern and a bleeding heart for it. If they do well I might make the bed wider later.
I was wondering if anyone had suggestions/advice?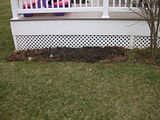 (click to see bigger image)