80 plant rack-2'x4'x6' space
Yeah I got pictures. So first let me introduce myself. My Parental given name is George Davis, my Earth given name is Christian Warlock (Three Nuns gave me that name) I'm an Artist, Photographer, Capricorn, Humanist, Computer Child and Plant person. It's that plant person aspect out there that I'm looking to talk to. PCK UP DAYlastics have made a world of difference in the way we create in our world. Plastics allow us to create in a bottle any type of enviroment we wish to store. Food grade plastic as found in any recycling can in ANY NEIBORHOOD IN AMERICA ON PICK UP DAY. These containers with alittle hole punching and restricting of the neck can be made into little water recycling centers. I call it The Dark Garden Method.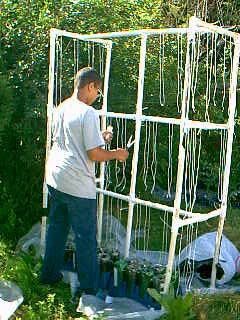 Now the Garden Pods as I call them are made from 2 & 3 Liter bottles. The rack will hold 48 Bean plants. The space between the legs will hold 32 plants in trays- 2trays to a side 8 plants per tray. It was my thought to use 32 corn in the floor space. It could be 48 tomato plants, 48 brussel sprouts what ever and that makes 80 plants. Now I can put 21 different beans on this rack at a cost of $2.98 from the local market. I've got them sprouting now. Now I'll have to worry about bean crossing. As for the corn I'm growing 100 stalks now in a 3'x6' area. I may use 2 liters of water on them a day, but only on a few in the front. The ones in the back haven't been watered in a month.
I'll take another picture to update their growth if anyone's interested?