NEW: 2nd Annual I.E. Pick-A-Peck of Peppers Swap
highalttransplant
(z 5 Western CO)
February 11, 2011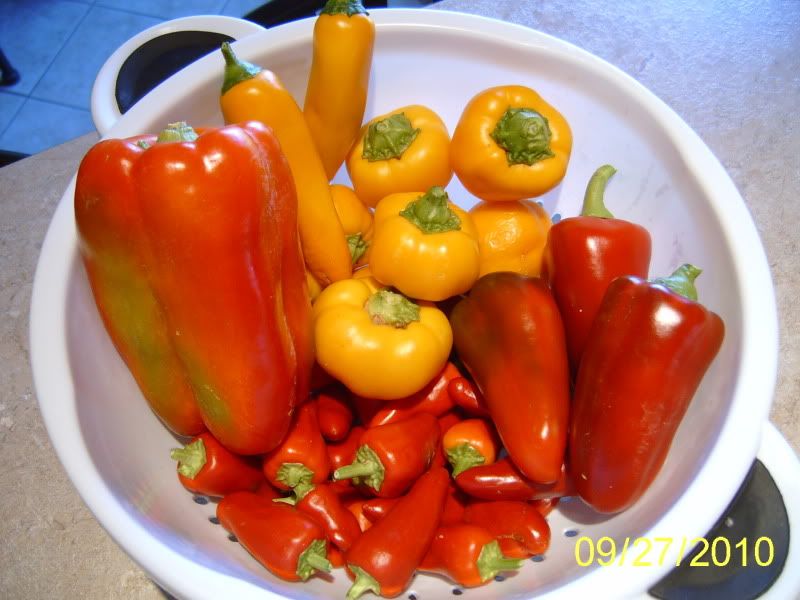 Okay, I know that the I.E. Totally Tomato Swap is still going on, but I just can't wait to get started with this swap again! Besides, I've been told by some folks that they'd like to get an early start, so that they can get their seeds back in time for this season's crop.
I am just started to push my limits on the heat level I can tolerate, and haven't gotten brave enough to try hababeros yet, so don't feel like you have to be a "hothead" to participate : )
So here are the rules (every swap's gotta have them):
* Sign ups will run through Monday, February 28th. Seeds must reach me by March 4th. I will do my very best to have them back out by March 11th.
* Seed packets should be labeled as commercial, or harvested/hand collected.
* Seed packets should have 12 - 15 seeds per packet.
* Limit of packets per variety = 3. If you send in more than 3 of a variety, the rest will be considered extras.
This will increase the variety in the swap. More variety sent in = more variety received back : ) If you have something very rare, or in high demand, contact me privately, and I may wave the 3 pack limit for that item.
*** Last year, I received tons of unnamed Bell peppers, Jalapenos, Cayennes, and Habaneros, and very few requests for any of those. Sooooo, here is a change from last year's rules. Only named varieties please, such as Biker Billy Jalapeno, TAM Jalapeno, Golden Cayenne, King of the North Bell, etc. Please write the variety name on the seed packet.
* Limit of total packs = 50
* Please put your GW name on the seed packet. This will ensure that you don't receive your own seeds back.
* Include a list of what you are sending in. This will also ensure that you don't receive the same thing you sent in.
* Please include a wishlist, or at least me know if you prefer Sweet/Mild, Hot, or a Mix, so that I can send you things you will enjoy, even if I don't have items specifically from your wishlist. You may also indicate if you prefer OP/Heirloom types, or Hybrids. I can't guarantee what you will get back, since it is dependent on what others send in, but I will do my best.
* Commercial seeds should have an expiration date of '10 or '11. If hand collected, they should have been harvested in '09 or '10.
* NO seed mixes please. Not a single person in last year's swap had a seed mix on their wishlist ... just sayin'.
* And last but not least, please include a return address label, and enough postage for the return trip.
I apologize if that sounds like a lot of rules, but this will keep the swap fair and fun for everyone.
Let me know if I've forgotten anything.
Your hostess,
Bonnie