Help and Advice for My first gardenia
Hello everyone,
I am new to this so please bare with me :)
I got this beautiful Gardenia as a gift, it was delivered two days ago and since then I was reading online how to care for it and so but I am really overwhelmed and worried. It looks healthy to me, it has few buds and I'm expecting them to bloom soon?
I have few questions and concerns, I really don't want to harm it and need to make sure it won't die in winter.
First thing is, I live in NJ and it is almost a 100 here, I don't have a sunny window, but the brightest part of my apartment is the kitchen so I keep it there most of the day where I don't have an Ac, but I'm sure the temperature is not between 60-70. I will put it on my fire escape from 9 am-1 pm because thats the only time it gets some sunlight.
I am watering it and it is draining the extra water pretty fast.
I already have a list of what to buy for it, an organic soil and an organic fertilizer for acid loving plants, organic soluble water all purpose fertilizer, a bigger size pot for repotting later,also I might get the artificial light and some insecticidal spray.
I pulled it out of the pot to inspect the roots they look healthy to me? I am not sure I will upload a picture, but I feel there is no soil left it is all roots and you can even see them from under its current pot.
I am sorry to make this long post but I really want to make sure I am doing the right thing my questions are:
is it getting enough light like this? Should I buy the artificial light?
if it is too hot in the kitchen should I bring it to my room and use pebbles with water to increase humidity? I have an AC in my room
Should I repot it now or after it is done blooming? And if so should I fertilize it when I repot or just water?
If I don't repot it now should I fertilize it? and how often?
I saw two leaves yellowing today and got nervousI will upload the picture, it is more getting yellow from the middle of the leave not the whole thing and not the tip.
Thanks and I appreciate all the help I can get :)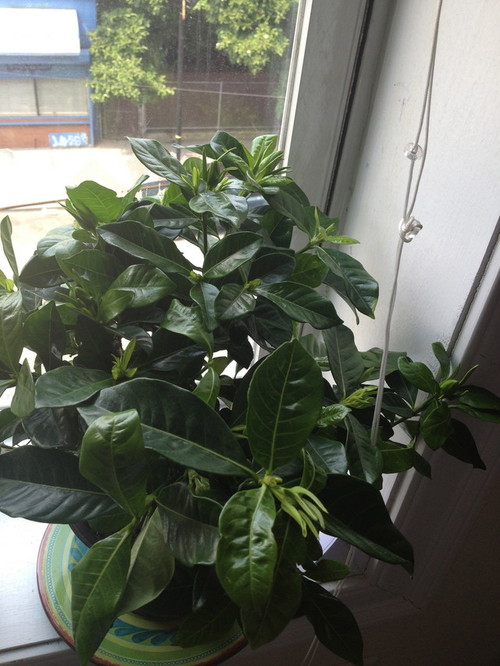 This post was edited by Randawii on Fri, Jul 19, 13 at 15:27