New: March FOTESS Swap - Leapin' Leprechauns
sandlapper_rose
(Zone 8)
February 10, 2012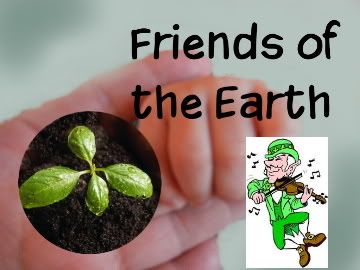 Just a reminder that you must be a member of FOTESS in order to join in on this swap. If you are interested in joining FOTESS, send an e-mail message to me or to Shirley.
Leapin' Leprechauns!
March is the month with St. Patrick's Day. Honoring the leprechauns, we are going to send miniature or wee things for our seeds this month. I am keeping it really simple. For this swap you will send either one full pack or two half-packs of seeds. Nothing else in terms of seeds, plants, or little gifts. Whatever you send as seeds must consist of a smaller version than usual. For example if you are sending runner beans, there is a small variety that can be grown in a container. If you are sending tomatoes, send cherry tomatoes instead of Beefsteak or send a type of tomato plant that can be grown in a container and won't take much space. There are mini-sized carrots, short zinnias, even miniature corn. There are miniaturized plants of all kinds these days! Flowers, fruits, veggies, and herbs are all fine. It can be the entire plant that grows smaller than the usual size or the flower, veggie, etc. can be smaller. You get the idea! You might want to check your partners want list and see if there is something special he or she is interested in. However, I admit, my want list is not at all up to date. I suspect many of us may be in the same boat with the many seed swaps that are going on right now.
The only other thing to include with your pack(s) of seeds is an Irish saying/Irish blessing for the person you are sending to - just write it or print it out and put it in the padded envelope along with your seeds. You can find many to choose from online by searching St. Patrick's Day or Irish blessings or Irish sayings.
No delivery confirmation is required this month.
So just those two things this month:
1. Seeds of something wee - one full pack or two half-packs (you might count a small number of seeds harvested from your garden as a half pack or if you simply want to buy two of something - keep 1/2 of each pack for yourself and send half to the person you mail to.)
2. The Irish Blessing for the person you send to - nothing fancy - just write it or type it and include it in the envelope.
Hers's a part that is for everyone in FOTESS whether you sign up for this month's swap or not. We always like to get to know each other a bit better on the forum so we would love it if you would post something this month about a situation where you were lucky. Sometimes we all get a bit of serendipity and something special happens or we get spared from some bad outcome. Call it luck, call it intuition, we all have those experiences from time to time.
Sign up by Feb. 24th.
Partners will be assigned by March 1.
Mail out by March 8th - that way your partner may receive his or her package by St. Patty's Day!
(Send earlier if you like...)
Yes, I know I an posting this early, but this will give you time to shop for seeds if necessary and hopefully get your envelope in time for March 17th.
Jeanne