Xeriscape-Unattractive
pricklypearsatx
(z8)
August 23, 2010
Is it possible for a no grass front yard to look decent?
I wonder if I'm doing something wrong "design wise"?
Several years ago, I removed the grass in my front yard due to water restrictions here in San Antonio, Texas.
However, the only plants that have been able to survive next to my front sidewalk (AKA curb area-reflective heat) are Texas native plants such as cactus, yucca, salvia, lantana, and cenizo (Texas ranger -leuchophyullum)
(I've had short term success with a few others, such as rosemary and bulbine. I lost an attractive rosemary hedge to heavy rains one year. I lost my bulbines to a freeze this past winter... I've tried all sorts of others...)
The area next to the curb is awful and unlike grass, my eyes don't flow through this type of native vegetation. It looks too busy.
Additionally, plants that look overgrown in the summer, look too bare in the winter..
I don't know what would look worse, this or burnt Bermuda grass. However, I've spent so much $$$$ putting in and taking out plants.... not to mention the water required to get plants established.
Does anyone else have this same problem??
Just curious...
Here is the spot in summer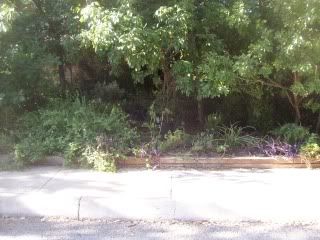 winter: