sunflower house #2 - 2014
samhain10
(5a - MI)
June 1, 2014
Well, I'm back with the Second Edition of the Sunflower House. I built it in the same location, using the framework from before, but with the added benefit of some of last year's stalks to strengthen the structure.
I also moved the doorway around to face south, since my observation was that the sunflower faces pretty much didn't turn much further than this during the day. Certainly they never made it all the way around to the west side allowing me to get a truly decent pic of the entry.
Last week I was a little worried because everything I planted had sprouted - except the sunflowers! So I planted some more. And watered like crazy since we've been having non-stop sun and 80+ degree days. Yesterday and today I see all the little sunflower seeds coming up. Whew! The other things planted are some blue flax, poppies, calendula, catchfly, scarlet runner beans, morning glories and some tithonia (Mexican sunflower, by it's common name). I'll have to thin some things out to make sure the sunflowers have the space they need, but this year I should have a full lower planting, to complement the tall stuff.
Oh, I should have added that the bigger plants you see in the pic are things which seeded themselves there: St. John's wort and wild black-eyed Susan - I thought they'd be a lovely addition, so I left them!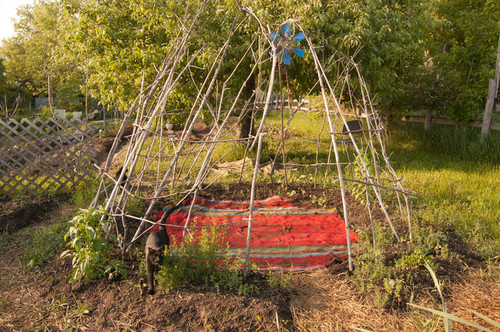 This post was edited by samhain10 on Sun, Jun 1, 14 at 23:16