Update on viv..
whatisntseen
March 12, 2006
Abotu a week after its set up and running well.. I fed my frogs some red worms, I think a ocuple may have ended up in the soil. I added more bedabeast to the left side as a couple of the plants just werent doign well. Two of my three broms have given off actual flowers, all three are in spike though. I did pollinate ofne of them today, I'm hoping it will take as I've never done it before and I was just assuming my method was correct. I also added my other piece of wood from my old viv after freezing it for a few days to kill all the little white bugs that I think were mites. and stuck my otherpiece of wood which goes across.. I'm looking for a coulple more orchids andbroms to put in there, particularly epiphytes. And I bought more moss for the left side since it has none and the right has enough to spread and join. I also put some moss I foundoutside i nthere and hoping it takes even though its staying quite green. Its a beautiful moss that I think is interresting for the viv. anyways, here's the picture. Comments please..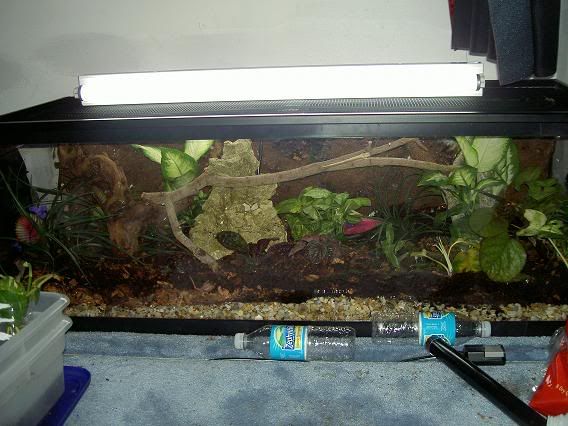 notice the mess I ahve in front from using bottled water for my waterfall and just cricket and plant stuff.. It's being cleaned up tomorrow as I ahve the day off from school and have to prepare my 10 gal snake tank for cricket culturing and one of the sweaterboxes for mealworm culture.
I would have more but I cant find the camera and this is the only one I took off the SD card at the time.. I'll add more later..