More Bertolonia species
dirtmonkey
(z8 OR)
May 25, 2009
I'm back, with pictures of the kids, some favorite terrarium and vivarium subjects. One of the things I managed to hold on to through a couple recent moves and job changes is my infant collection of Bertolonia species. Sadly I have almost no growing space indoors yet, so almost everything is in a 45 gallon aquarium for now. But, fortunately, that's where the Bertolonias were headed anyway. It will be devoted to them once I get some more space going for all my other persnickety weeds.
A couple are coming into bloom, so I may get to finally try my hand at hybridizing Bertolonia (Yay!). I've been wanting to for years.
Here's the next generation from seed of B. marmorata 'Sanderiana'. Absolutely identical to their parents and grandparents. They look varied right now, but the next active growth cycle they could be all silver, all dark striped, or even switch patterns between plants. They've always done that.
These were sown on Halloween last year, so took only 6 1/2 months to bloom, even though they went through cold weather moves and assorted species of neglect over Winter.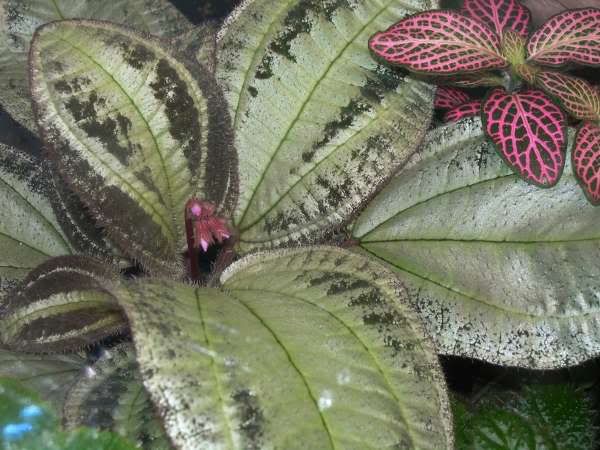 (Other plants are Fittonia 'Pink Star' and Diastema racemiferum. The Bertolonia is beginning to bloom, in a 2.5" pot, but probably has a few roots out into the soil mix and moss under it.)
(Friends above are the Episcia hybrids 'Kee Wee' [blooming], 'Silver Skies', and my own 'Aloha Mauna Loa'; an itty-bitty Syngonium rayii, and some unidentified weed that's come up by the hundreds in the terrarium suddenly. Looks like one of the watery-stemmed Chirita, maybe.)
Here is the very next one I grew from seed: B. cf. ovata 'Bronze'. I grew some myself and was sent some by Harry at Cloud Jungle; I don't know which came from where any more, but the seed all came from Mauro Peixoto in Brazil. Either way, it was sown late Summer or Fall last year.
These suffered through the moves and neglect, and are only just now starting to seriously recover. I really like the very truly purple hair this one is covered with. Not wine-red, maroon, or burgundy, but purple. I couldn't get it to show all that well here, but should be able to get better shots as it matures.
(Companions to the Right are Philodendron 'Pincushion', and a Begonia bowerae hybrid.)
Here's another one Harry sent, this one from Ecuagenera. I haven't seen any other listings for it, and apparently it went around as a Pilea and ther things for a while- but you can see from the flower why I think it's probably a Bertolonia, or a close relative. The last time it bloomed the seed pods were empty, but I'm trying to self pollinate it again as well as cross it.
The rooted cutting arrived looking completely dead, I thought it froze in shipping. It may have, even. It lay on the moss completely limp, wrinkled stem and all, for a long time... not a few days, more like weeks. Good thing I was too lazy to toss it out! It just suddenly perked up and decided to live one day.
(Plant in lower Right is xGlokohleria 'Scarlet Letter'.)
And here, as far as I know, are (drumroll...) the most detailed pictures of the flowers of this Ecuadoran species ever on the whole WWW! Check out the weird anthers:
And the funky fuzzy calyces and seed pods, like Elmo's pubic hair:
Next up, B. sp. "Itatiaia". A collection from Brazil from Mauro Peixoto. These are the my most recently sown, so there's not much to see yet. They seem to resemble "Iporanga" in habit and coloration, so far, but more red and olive tones than those had at this age. Sorry about the focus- but you're not missing much.
Below is the above-mentioned collection from Iporanga; I'll call it B. sp. "Iporanga" as with the last, until we get a species ID. I wonder if they're even published yet.
My Iporanga seeds never germinated, even after refrigerator storage and aging. Fortunately Harry had started some from the same collection, so I got it again in a trade.
I can't be sure whether the lighter yellowish zones are normal or not; all of them look the same, and fertilizing didn't change them. I'm starting to suspect this pattern might be their natural color.
(Also Selaginella, Biophytum sensitivum, and more of that evil weed.
I've given a bunch of various Bertolonia to a friend to sell on eBay while he's out of work, but don't know when he'll have them mature enough. The B. marmorata 'Sanderiana' should be there pretty soon. (No, I am not the seller and don't know if we can name them here). Hopefully soon I'll have more batches of seedlings to spread around :)