HELP! Moldy terrariums!!!
ohsixthirty
(Zone 6)
June 16, 2009
Approximately a week ago I made several new terrariums in jars, but now I'm having troubles with a few. I seem to be growing white fuzzy mold on my plants and the leaves and blooms are getting brown and mushy. Its happened in 3 terrariums to 3 plants so far.
Now, one plant I think was just a bad terrarium choice, but the other two were an african violet and an artillery fern, both of these are listed as great plants for terrariums in the book I have. The blooms on the violet turned fuzzy and gross virtually overnight and then today I noticed the tiny pink blooms on the artillery fern were brown, moldy, and mushy.
These are both in apothecary jars, kind of planted in a mixture of left over soils. I think its mosly cactus soil, orchid soil(a barky, dusty medium), and sand. I was trying to make a high drainage soil. Everything is layered correctly with the rocks, charcoal etc... I did water them quite a bit when I started, so I wonder if I overdid it?
Otherwise, I'm not sure why I'm having such mold problems. Are these plants simply not suited for a closed top terrarium? Any help would be greatly appreciated as I REALLY don't want any of my plants to die.
Also, here is a picture of the offending jar with the artillery fern. You can't really see the mold, but I wanted to provide some idea of the setup here.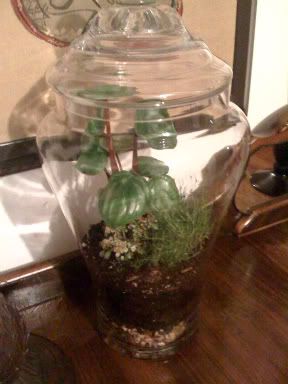 Oh, and also if anyone knows what the tall plant in the back is, please let me know! I bought it at Smith and Hawkin with no information.