Building first real terrarium
larry_b
(Zone5/CO)
September 1, 2006
Hi,
I have been lurking on this forum for quite a while now. I have been coveting all of the wonderful looking terrariums. My wife and I and my are going to attempt our first "real' terrarium. It'll be a husband and wife bonding project. At least I hope it turns out to be that. We will be using a 10 gal. aquarium. I would like to try for something bigger, but I'm going to be practical this time and not get myself into a larger project and I can handle. If I can keep this small one going maybe soon I'll make something bigger. I was wondering if I could ask you all a few questions?
I have also been on the black jungle web site looking at different building materials. They encourage people to use their expanded clay pellets instead of pea gravel. Does anyone have an opinion about that?
Then the substrate. Black jungle recommends Co-co bedding. Is that the same as noir? I'm not really familiar with either. I would like to hear from those of you who have used this. And if you don't use it what do you use? I had thought about using an African violet wicking soil before reading about co-co bedding.
I have a small 1 gal. aquarium that I have micromini sinningias. I have been fighting mold in that thing for years. So I'm going to be prepared for mold to creep into this terrarium. I understand that a fan is very good for keeping the mold down. I have the following fan that I've had laying the around the house for years. Do you think this would work in a 10 gal. terrarium. Do you know if one can put a variable current type switch on something like this?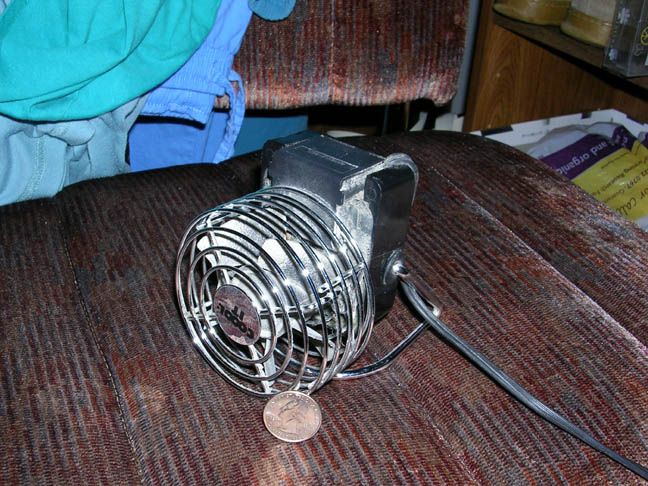 Now the background. I am leaning towards Cork bark. I have no idea how thick it is though. Obviously in a 10 gal. space is at a premium. Does any one have any recommendations in this area?
Everything else seems pretty straightforward. Make a layout, get some plants and have fun (not that the whole process isn't fun in itself). My last question is basically this. What things would you recommend that I not do? What things could I run into, as far as planting, that is not going to make the project with good?
I really look forward to hearing your answers on this.
Larry